---
Having a Bishop tattoo machine has always been a pleasure, and this was noted back when they launched their rotary line.
Bishop Rotary is one of the oldest brands in the industry. But, have they evolved along with the new emerging technology?
Nowadays, it is a luxury to have one of their models.
With a wide range of rotary options, they intended to give the artist the best tool for the best experience.
Let's see what their main line of machines has to offer to the artists.
MicroAngelo (RCA connection – Super lightweight)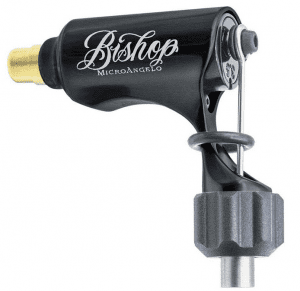 Pros
– No lubrication is needed as frequently as in other similar models.
– Super lightweight, which could be the best one for long sessions.
– Strong and durable frame made from aircraft aluminum material.
– It has a direct drive motor (brushless), meaning that all the power it generates will go to the needle.
– Fitted with plunger bars for all grips.
– Has an appealing custom pinstriped design with multiple colors.
Cons
– It only accepts a RCA connection.
– Despite being one of the manufacturer's best-selling products, it is hard to find them in stock.
Specs
– Frame material: aluminum.
– Voltage range: 7 – 9v.
– Weight: 56 g (2.0 oz).
– Needles compatibility: standard and cartridge.
What do I think?
Typical of the brand, the MicroAngelo RCA is a revolutionary machine.
It is the first to have interchangeable 3.5mm and 4.2mm magnetic cams.
The machine was designed to be sturdy and durable, and that is thanks to the use of aircraft aluminum as a building material.
The direct drive is a Maxon Motor, which is known to be efficient for any lining and shading works.
It is fitted with plunger bars that are compatible with all kinds of grips.
I have to conference that I am a fan of Cheyenne and FK Iron tattoo machines too, so it is a bonus that the plunger bars are also compatible with grips coming from these two manufacturers.
The MicroAngelo is a powerful machine that operates at 6v up to 9V output.
One unique feature is its custom striped body. Besides being very effective at most tattoo works, getting yourself a bold and extraordinary-looking machine is a bonus.
As with any other tattoo gun from the brand, it also has a one (1) year warranty that applies only if:
– no lube is done on any of its parts.
– try to open it to access the motor and,
– there is no clear evidence that it has been dropped or maltreated.
Both experienced tattoo artists and beginners can easily use it.
Like the Dragonhawk Extreme X2, beginners will find it an efficient and easy-to-use machine that allows them to work for long hours without tiring or cramping.
On the other hand, many experienced tattoo artists find this machine a great addition to their collection.
LEARNING NOTE
Rotary tattoo machines use electric motor mechanisms to move the needles back and forth. These machines have
superior quality in making fine lines and shading. Besides, a single machine is highly versatile and can be used for the entire tattooing process.
Fantom Bishop


The good stuff
– Made of sturdy aircraft aluminum material.
– Runs smoothly with no need for lubrication.
– Fitted with plunger bars for all-size grips.
– I believe this is the lightest of the brand (that is why they became with the name).
Things that can be improved
– Clip cord compatible only.
– No traditional needle compatible.
Specifications
– Frame material: aluminum.
– Voltage range: 8 – 10V.
– Weight: 48 g (1.7 oz).
– Needles compatibility: cartridge.
Nothing says "stunning" more than the Fantom Bishop tattoo machine. The first thing you will notice is its appealing design, which houses numerous exceptional qualities.
As an old entrant in the market, it still impresses many artists who love other tattoo machine brands.
I would dare to say that its impressively low weight is due to the motor used.
A flat motor design resembles a pen that allows the artist to use it with utmost ease. Besides, the aircraft's aluminum material makes it surreal in how light it feels in hand.
I'm sure tattoo artists can work for long hours without tiring, and the lightweight allows you to concentrate better on the tattooing process.
I'm not sure how versatile it is, as it was designed only to work with cartridge needles. I think this is a bummer since cartridges are usually expensive.
Well, at least the tattoo gun features interchangeable grip bars that are compatible with all grip sizes.
If you are a beginner in tattooing, the Fantom Bishop is undoubtedly one of the best machines.
It is easy to use, considering it has an acceptable upright balance. As for the voltage, 8 to 10V is not bad if you love the lining technique, but I think it is a bit limited for shading.
Lastly, similar to the above model reviewed, it should be looked after if you want to have the one (1) year warranty on the main parts.
The Limited Edition: MAGI Black – Nikko Hurtado
Benefits
– Sturdy as it is made of aircraft aluminum.
– Lube/grease free.
– Has a 71mm plunger bar to use with changeable grips.
– Has an 80mm plunger bar to use with click grips.
Limitation
– It is a limited edition with only 1000 gold machines available.
– No standard needle can be used.
– Can be very delicate for sanitation.
Specifications
– Frame material: aluminum.
– Voltage range: 6 -8.5V.
– Weight: 56 g (2.0 oz).
– Needles compatibility: cartridge.
Our thoughts about this machine
Every tattoo artist wants an efficient machine that helps them work faster and longer without tiring.
The Magi Black – Nikko Hurtado x Bishop is that one machine.
It is as sleek as you would expect of high quality, appealing in the outlook, and highly effective in its work.
It is available in matte black (4000 only) and a combination of gold plated (1000 only), both intended to be produced as limited editions.
Once you get it in your hand, you will have a one-of-a-kind collectible among your tattoo machines as it has a unique code of authenticity.
Other important details:
– The Magi Black is a cartridge-specific machine and works with all hawk grips.
– It comes with a RCA connection and operates on a precision Maxon Motor.
– Versatile like any rotary tattoo machine, it works perfectly for shading.
– It is a powerful machine that operates between 6 and 8.5v.
Tattoo beginners will find it one of the most effortless machines to use. It needs not much tuning, as the brand wants you to have it ready to go. In addition, the manufacturer states that it works 30% faster, which translates to excellent efficiency and faster healing tattoos.
Finally, you get a one (1) year warranty as long as the primary conditions mentioned previously are maintained.
The Wand Rotary (3.5, 4.2, and 5.0)
The good stuff
– There are three (3) stroke variations available depending on the work you need to do (shading, coloring, or black work).
– Pen-style machine that, compared to other similar configurations, is possibly the lightest on the market.
– Each Wand is carefully customized and designed, so any experienced artist finds it pleasant to work with.
– Contrary to the other versions above, this one uses a German motor (Faulhaber), known to provide tremendous torque and reliability.
– It can be used with cartridges and standard needles.
The potential deal breakers

– The Shader variation can be too lightweight, so the balance could be tricky for some artists.
– It takes time to adjust to the machine, especially if you come from a coil configuration.
Technical details
Shader

– Frame material: aircraft aluminum.

– Voltage range: 8 – 10V.

– Stroke: 3.5mm (soft torque).

– Weight: 115 g (4 oz).

– Needles compatibility: cartridge and standard.

– It is ideal for black and grey fillings and some lines (not fine).

Packer

– Frame material: aircraft aluminum.

– Voltage range: 5.5 – 9V.

– Stroke: 4.2mm (more hit)

– Weight: 115 g (4 oz).

– Needles compatibility: cartridge and standard.

– Recommended for coloring.

Liner

– Frame material: aircraft aluminum.

– Voltage range: 6 – 9V.

– Stroke: 5.0mm (deep hit).

– Weight: 115 g (4 oz).

– Needles compatibility: cartridge and standard.

– Built to work fine lines and dark art.
My point of view of this rotary pen-style
I know the brand has done an impressive job of getting a rotary gun with the idea of replacing traditional coil tattoo machines.
All of you know that it is hard to have just one machine that can do all types of work.
They knew that, and for that reason, the stroke modification is more specific for each type of design.
There is not much I can say about the Wand, but I can tell that the Shader would operate very similarly to the Fantom model.
The difference is in the plunge bar. The Wand is more precise with the movement.
As for how it feels in your hand, its size is excellent. It may not be too heavy, but it has a good ergonomic shape, so the balance is unaffected.
The best part: The Wang goes Wireless!
As mentioned at the start, technology has evolved so that tattoo artists can enjoy their work. The brand didn't stay behind and worked hard to get its cordless version.
They call it – The Power Wand Collection!
Joining forces with another strong brand, Critical Tattoo, this is what they are offering in the collection:
– The Wang
– Two batteries with different sizes and capacities.
– The charging dock, which has slots for the two batteries.
– The footswitch from Critical.
– And, an RCA adapter plus cord in case you need to run it the old-days way.
Lastly, if you want more information about the latest creation of Franco Vescovi, I recommend you watch his thorough video about the Bishop Shader, Packer, and Liner Wand versions.
Is It Worth Buying One? Final Thoughts
As tattooing becomes a prevalent art form, tattoo machines are becoming more sophisticated.
The idea behind getting outstanding quality, such as low-weight, versatile, and efficient tattoo guns, is to make the experience pleasant for artists and their clients.
No matter what version you choose to acquire for your next job, all the machines featured above have these unique qualities that come to life as you use any of them.
The Bishop Tattoo Machine will continue to evolve along with the industry, and indeed the next model will hit the market strong. Nevertheless, think if you really need to pay more for extended quality or less for initial practice.
---