Coil Tattoo Machine Guide 2023
---
Which Coil Tattoo Machines Are Outstanding in 2023?
The coil tattoo machine was first introduced in 1891 thanks to tattoo artist Samuel O'Reilly, and it hasn't really faded in the market since then.
This configuration has changed over time, making these machines more versatile, precise, and sturdy.
Many independent artists, like Lauro Paolini, prefer to work with these mechanisms, offering unique custom tattoo machine alternatives.
On the other hand, more prominent brands such as Dragonhawk have a wide range of options, and their prices are more accessible.
If I were to buy one, I would choose an independent tattoo artist option.
I believe more love is involved when they build their masterpiece by hand, but this comes at a cost.

Let's start with a little summary of some prominent ones and find their benefits and limitations.
Best Coil Tattoo Machines in 2023
To define why the following are the best, for now, these are the points that need to be reviewed:
– Performance.
– Quality of its components and,
– Visual aspect.
Maybe some of us don't give much importance to how the machine looks, but whether we're conscious of it or not – that is how we make 90% of our purchases, right?
Eikon Tattoo Machine – Green Monster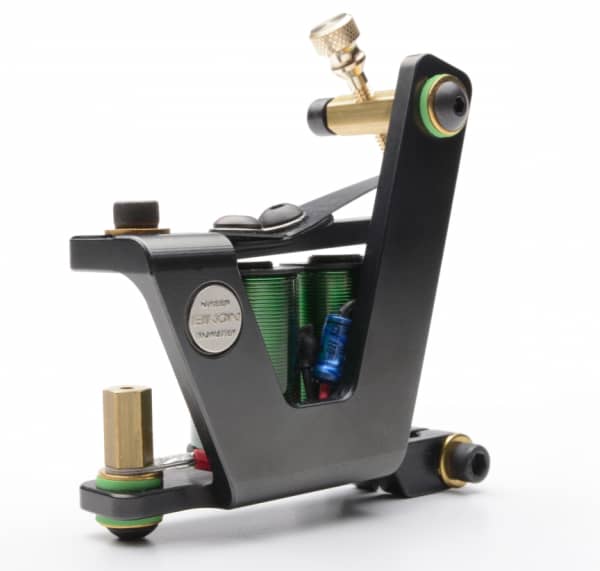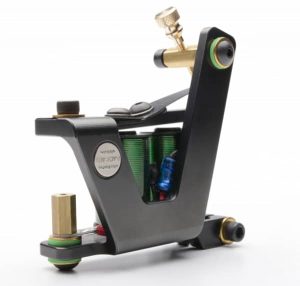 Benefits
– Unit-dedicated configuration for lining, coloring, or shading.
– In-house custom-tuned so it performs well at peak voltages.
– No complicated wiring.
– Fine liner model available.
– Built by a brand with over 30 years of experience.
Limitations
– As it is a dedicated machine, it may limit its use for other work types.
– Only works with standard needles.
The Eikon Green Monster tattoo machine focuses on performance and power to the dedicated configuration.
What do I think about it? Let's see these points:
Performance:
It is know for the ability to operate needles from 7 round liners up to 14. For that, it has to hold high voltages without issues.
Components:
An 8-wrap coils, along with the a more precise armature bar delivers good quality over any liner work. This also is possible by the protection of the steel frame. All the components add to an overall weight of 8 oz (230 g), which it may be on the heavy side.
Look:
I think it looks well designed, clean and sharp. Also, I like how each component is presented, and accessible for any maintenance or tuning.
Solong Tattoo Machine – MZZ273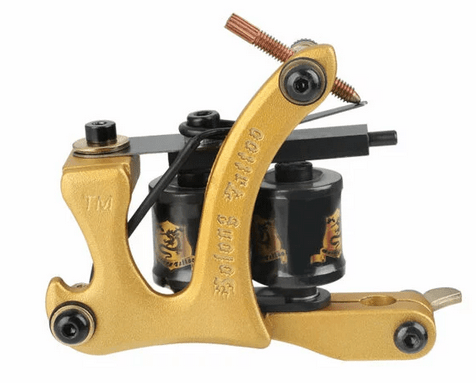 Benefits
– Unit is configured to work as a shader or liner machine.
– Very affordable price for poeple wanting to test a coil configuration.
– No coils exposed to the elements.
Limitations
– It appears to have a weight of 500g, which I consider heavy.
Lauro Paolini Tattoo Machine – Nivola


Benefits
– Carefully custom-made.
– Compatible with disposable grips.
– There is a mini version available.
– It is excellent for outlining work and easy to operate with big needles.
Limitations
– It may be a bit heavy for some artists (200 g).
– Still too noisy while operating.
Lauro Paolini has been in the game since 1996.
As an independent artist, he has developed several handmade coil tattoo machines.
One of his best creations is the Nivola series, which has 8 wrap coils.
With this in mind, you can play with a voltage between 7 and 10V.
For now, it is specified to keep it below 12V.
In terms of needle compatibility, it accepts standard and cartridge versions.
– Performance: what is interesting about this one is how easily it responds to voltage variability.
– Components: so far, the coils are sturdy and well crafted.
– Look: it is not so different from any other creations. The only thing, which stands out, is the handcrafted signature on the Iron frame.
Budget Dragonhawk Coil Tattoo Machine – Samar



Benefits
– It is simple to operate and maintain.
– Quiet even when it runs fast.
– Interesting shading capabilities.
Limitations
– Heavier than expected (221 g).
– Very affordable (<$150).
– The voltage range is limited.
We all know that Dragonhawk is one of the biggest tattoo machine brands in the industry, mainly with its rotary configuration.
What is more interesting is the wide variety of coil models available, which is seen within the Compass series.
In this case, one of the outstanding ones is the Samar version. This one offers a higher speed (at 110Hz) than other models in the same line.
At first glance, it may not look so attractive, but each individual element used to build this machine has been well finished.
A structure of ten (10) wraps is ideal for performing well when doing shading work.
Outlining might not be the best, but it can tackle it.
For now, it's a very affordable tattoo machine, but I'm not convinced how well the quality will hold up over time.
One good thing is that each element is easily accessible, making troubleshooting easy.
FK Irons – AL 13 Exactor III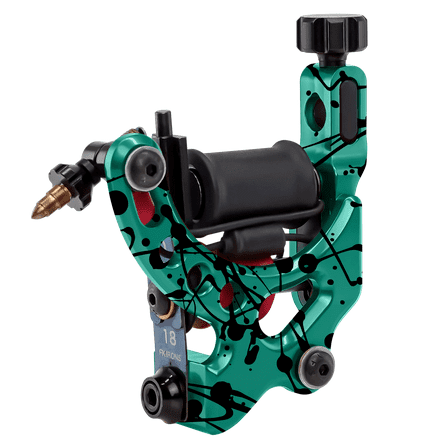 Benefits
– Improved mechanisms to provide a smooth tattooing experience.
– One of the lightest so far.
– You can adjust it to work for different tattooing options (outlining, shading, and coloring).
– Compatible with all needle types.
– Well-finished and engineered.
Limitations
– The excellent paint job can be ruined over time.
– Operation over 10V may be too much.
FK Irons is another famous brand, manufacturing one of the best tattoo machines in the industry.
It may not be the strongest brand in the game, but for now, these are three (3) interesting models: Exactor, Galaxie, and Roswell.
Of these models, I think the most appealing is the Exactor III one.
Why?
With 10 coils, it has been improved to provide less vibration compared to previous models.
The coil structure is what gets my attention.
This is the first time I've seen one of the coils shorter than the other one; I guess that's why it is smoother and balanced.
To add to the balance, this model may be one of the lightest in the market at 4.85 oz (137 g). This is due to its revised structure and aluminum frame as well.
Another reason why I like this machine is its overall look. It has an immaculate design and smooth edges, but also customized colors and fancy drawings that could match any personality.
Although for an additional price.

With the modifications in connectivity, the performance was enhanced.
It is known to operate constantly for a few hours without much voltage variation due to increased temperature.
To achieve good long hours of operation, the coils, the cables, and the vice mechanism were made to high-quality standards.
Lastly, I love that it is easy to troubleshoot.
This is mainly because the frame doesn't block access to the components on each side.
Micky Sharpz Tattoo Machine – Handmade


Benefits
– Carefully tuned to provide smooth shading and coloring works.
– Micky Sharpz tattoo machine brass hybrid-made structure.
– Any of his original pieces come with a unique serial number, so be careful with the fake ones.
Limitations
– It is cumbersome for long tattooing sessions.
– The above model is not perfect for lining works.
– Its price could not be affordable for some users (usually in handcrafted tattoo machines).
Micky Sharpz is another independent tattoo artist who has been in the game for around 35 years.
During that time, he has also been building different coil tattoo machine models to his liking and knowledge.
It is tough to tell which of his models performs better since the customization style and construction are very similar.
One of the main characteristics across the board is the simplicity of their system.
The standard coils, easy connections, and no fancy frames.
At first sight, the quality of the components may look a bit poor; however, I would put my trust in Micky's experience.
I like that all connections are clearly exposed, making it easy to find any issues during the operation.
Talking about his experience, his machines are carefully tuned to handle smoothly with minimal vibration, ideal for extended hours of work.
Aside from the above, maybe the look of it and the weight (245 g – 8.64 oz) could be a deal-breaker.
So far, I reckon this could be one of the heavier machines in this configuration, but surely you would be happy with how well it works for shading and coloring.
Lastly, be aware of any fake Micky Sharpz tattoo machines out there.
The best way to recognize the original ones is by checking the unique number embedded in the frame.
This number will be associated with a certificate of authenticity.
---
2023 Guide and FAQ
We know that offering a list of coil tattoo guns won't be enough if you don't learn the basics of these machines.
I recommend you read this guide to find the answers and differences between rotary Vs. Coil, wraps, wires, and voltage configuration.
What is a coil tattoo machine?
A coil tattoo machine is a device that usually operates with two (2) coil sets, through which electromagnetic current passes and subsequently moves the tattoo needle.
There are some models with only one (1) coil.
Once the armature bar has been set in motion, it exposes and retracts the needle as the artist gets to work.
The signature buzzing sound you hear during the tattooing process is the electricity running through the coils.
Diagram and configuration
The machine usually has two (2) coils and iron rods, which add to its overall weight.
The above diagram shows the main parts that make the machine.
So far, the most essential pieces are the coils in order to regulate the input current to the desired voltage.
On the other hand, these machines are weighty compared to the rotary configuration. This is mainly because of all the additional parts that operate the device.
A single-coil tattoo machine (scarce to see one these days) can be an alternative if you want to stick with this configuration but hope to avoid a heavyweight in your hand.
Unfortunately, these will only be okay for just one type of work: lining, shading, or coloring. You will have to choose.
They are popular among tattoo artists because they are available in a wide range of brands and are cheaper than the other configurations.
How does a coil tattoo gun work?
First, the tattoo gun must be attached to a power supply. An electric current goes through the set of coils in the machine, which then triggers the armature bar. Once set in motion, the armature bar causes the needles to move back and forth as they go in and out of the skin.
Sometimes the buzzing sound can get slightly annoying, so don't forget to bring headphones to listen to music instead.
The voltage of the machine can be increased to very high levels.
With this in mind, this is the main reason why they perform better when working on shading and coloring jobs.
Be mindful of not damaging any of the wires or allowing them to get wet.
Understanding your coil tattoo gun voltage
After setting the machine up, the next step is to determine the required voltage based on the work you plan to do, which could be either lining, shading, or coloring.
In most units, the voltage control knob is on the machine power supply box, where you will also find the power switch and two phone jacks for the clip cord and foot pedal.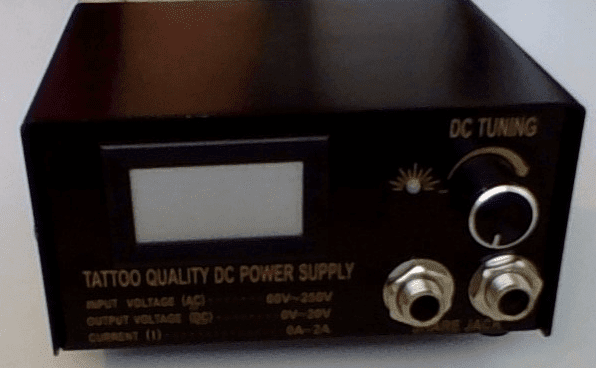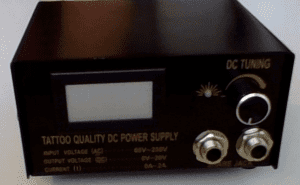 In most cases, tattoo artists use voltage ranging from 7 to 12 volts.
When doing outlines, it is recommended to use a voltage between 7.5 and 8.5 volts, whereas shading, on the other hand, will be okay between 8 and 12 volts.
Notice that you need more voltage to move the needle faster.
You should also know that your hand's speed and weight affect how much power you need.
Lastly, the tattoo power supply quality may differ when tuning the voltage. Some devices are easier to adjust, and some are more versatile.
Read More: I suggest you check our Tattoo Machine Power Supply Basics and Guide for 2023 to find in-depth details.
Overall, there is no right or wrong regarding how to tune a tattoo machine voltage. It is just a matter of experience.
Types of coil machines
There are two (2) main types of coil machines, which are liner and shader.
As its name says, the outliner guns are used to make lines by laying ink along with the marked tattoo design, whereas the shading ones are used to fill the created area.
The main difference between the outliner and shader is that the latter has a low saturation level and a more significant contact gap.
Other than these two (2) configurations, further distinctions are brand-related.
Various brand designs come from a mixture of different materials in varying shapes and sizes.
Ensure to do your research before buying one. Be on the lookout for machines that are made of quality materials and well structured.

They remain to be a common feature in many parlors. The machine is fundamentally associated with great pieces of art.
Despite their limitations of being heavy and producing significant noise, they are popular as an inexpensive and readily available option.
Coil tattoo machine setup: how to put it together
The coil tattoo gun setup process involves a series of steps.
Proper setup will ensure that once attached to a power supply, the needle will "drill" the skin smoothly and at the speed required.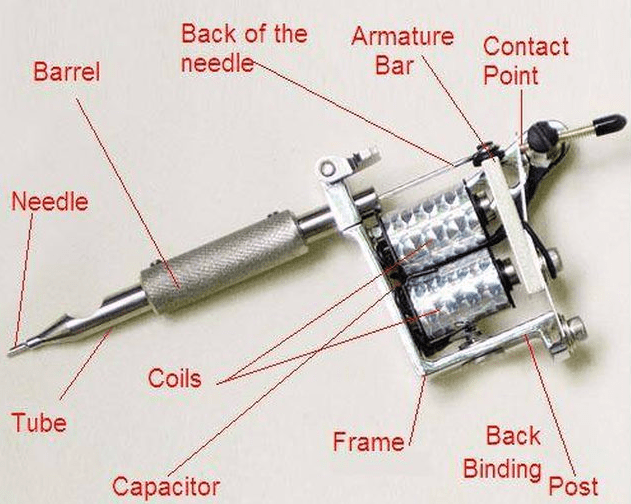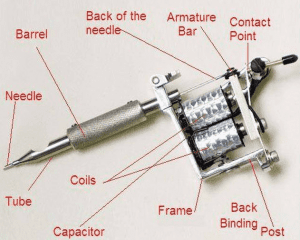 The first thing to do is to set the voltage you want to work on. Once this is done, you should turn on the gun and check it's running okay for a couple of seconds.
You will see how much the armature bar is vibrating.
The main thing here to know is how to calibrate the armature bar. To do this, you can adjust the contact screw to increase or reduce the armature vibration.
It is critical to calibrate the armature bar to know how deep the needle will penetrate the skin.
Needles and rubber bands
First things first, before you set up your tattoo gun, it is vital to ensure that your working station is clean and disinfected (this means your hands as well).
Needles
To set up your coil tattoo machine, you need to start by inserting the needle into the barrel.
Hold the barrel carefully and attach it to the tattoo machine frame.
The back end of the needle will go all the way to the armature bar on which you will hook the needle in.
Read More: Look at our tattoo needle guide and learn more about it.
Rubber bands
Take your rubber bands and secure the needle tightly onto the tube to prevent it from wobbling during tattooing.
You must expose the needle to the appropriate size by adjusting the tube.
Coil tattoo machine tuning
Tuning a coil machine can be an intimidating process, especially if you are new to the industry.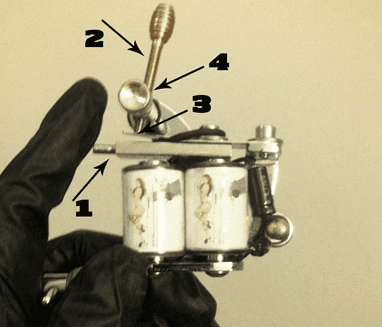 This is what I suggest doing for good tuning:
1. Locate the gap between the tip of the contact screw and the front spring.
2. Press the armature bar down so it touches the coils, which will create a gap.
3. To get the appropriate gap size, adjust the thumbscrew to release the contact screw and screw it down.
This will leave just the right amount of gap between the screw and front spring needed for either shading or making lines.
4. Once you have adjusted the gap, tighten the thumbscrew and release the armature bar.
5. To give it a good jolt, run it at a high voltage of between 10 and 12 volts.
Read More: How to Tune a Tattoo Machine – 5 Tips for A Good Lining & Shading
Lastly, I recommend hecking the manufacturer's specifications and guide if they are available. This is more important if the machine is a handmade one.
Troubleshooting & fault finding
As with any type of machine, you will likely run into some problems with your setup.
Even if this is the case, it will come with a manual to help you troubleshoot and fix the faults.
The most common issues that you might run into include:
1- The needle failing to move up and down:
When this happens, you should check the rear spring, which might not have enough tension.
If that is the case, you need to tune the assembly around the rear spring (bending forward), armature bar, and front spring to allow you to bend the rear spring and create enough tension.
2- Loose grip:
Another common issue when setting up your machine is a loose grip.
It may indicate that the hex bolt is not tight enough or the thumbscrew lacks enough tension.
Adding a plastic washer could ensure your hex bolt stays tight.
3 – Springs:
Sometimes your coil machine may work only when you set the voltage to its maximum (12 volts) recommended.
The main problem may be the lack of tension on the rear spring, requiring you to tune it.
4 – Voltage configuration:
You might want to check the voltage configuration if the machine gets too hot.
You also need to check that there isn't too much tension around the armature bar and spring setup.
To finish understanding your coil tattoo gun setup, if you see that it loses power, it may indicate faulty areas, including the capacitor, clip cord, or foot pedal.
If you are lucky and have spare parts for any of these, replace them one at a time and observe their behavior. So, by process of elimination, you'll figure out what part it is.
2023 Guide Wrap Up
In the beginning, you may struggle to set up your machine, but you will learn on the job (practice will make you a master).
As mentioned here, some of these machines may be cheaper than their counterparts; however, sometimes inexpensive products can cost you more.

You will undoubtedly need the manual to help you with the setup, tuning, and troubleshooting.
Considering there are numerous brands available in the market, each one of them will be different, though.
If you are unsure about which machine to buy, the best thing to do is to read the experience of other users.
Don't rely only on what the internet or your tattoo artist friend says.
Each person has a different impression of things, but in the end, if something is outstanding or terrible, all will come out in the wash.
With some extra research, you should be able to handle your coil tattoo machine just fine.
Best Coil Tattoo Machine for Beginners
We already know what are the best four (4) in the market for now.
Based on their benefits and limitations, I believe FK Irons has the best coil tattoo machine for beginners.
Why?
For these reasons:
– If you haven't worked with a tattoo machine before, its weight could definitely put your hand to sleep.
– Although the price tag could be overwhelming, starting with a quality product is always better to have a good experience.
– These coil machines can be adjusted to do any type of work.
– Last but not least, FK Irons is a renowned brand that will have your back with any issues.
All in all, in case you can't afford to have this beauty, you can always go for the Dragonhawk brand, which will give plenty of reliability and options.
Once you gain more experience, you can go for a custom machine since they are more expensive and could be more tricky to troubleshoot.
---