---
The FK Irons Spektra Edge X is a highly versatile cartridge rotary tattoo machine.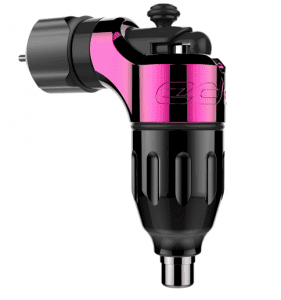 It's perfect for lining and shading and has interchangeable components with other FK Irons guns. A selection of colors and unbeatable features make it ideal for most users.
---
Background and Features
The FK Irons Spektra Edge X, alongside its Edge variant, is one of the most versatile tattoo machines on the market. It comes with an array of features beautifully packed into a single product that needs no additional hardware to help you achieve perfect results.
The frame of this gun is made from aircraft aluminum, and it is mirror-polished anodized to seven (7) enhancing colors. But it's not all about the looks. Spektra Edge X comes with an array of features that would have made it an excellent gun even if it were ugly.
One feature that stands out is the patent-pending MultiVise system that accepts all conventional back stem and screw-on cartridge grips without adapters. An adjustable stroke from 2.8mm to 4.2mm, allows you to set up the machine for lining or shading.
A nice heft of only 3 ounces (85 g) also makes the gun easy to hold and transport. At the same time, the adjustable voltage between 7.5 and 10 volts also allows you to make further adjustments and enhance performance.
The Flip side:
Off course, not a single machine is perfect. Based on what we found from other tattoo artists comments, the motors of this rotary tattoo gun can develop some noise after some constant use. In addition, the collet could get worn very easily after some reasonable use.
Even though, it could be a reason not to acquire this model, this particular brand provides good quality product so your machine will last for some good time.
---
FK Irons Spektra Edge X: Final Comments
There are few tattoo machines as versatile as the Spektra Edge X. Boasting a pivoting stainless steel drive bar, the gun is capable of stabilizing the bar and needle without bushings, reducing both friction and noise.
Another feature that prolongs the unit's lifespan is the self-lubricating slider that reduces wear and tear.
Furthermore, a ball bearing slider stabilization provides accurate glide, further reducing both friction and noise. All these features guarantee a smooth performance, while the micro-dialed give adjustment allows you to achieve the right level of performance.
Easy to use and coming with an interchangeable hex drive system, the FK Irons Spektra Edge X is undoubtedly one of the best tattoo machines on the market.
---
Specifications
Brand:

FK Irons

Type:

Rotary

Purpose:

Lining, Shading, and Coloring

Voltage:

7.5v to 10v

Frame:

Aluminum

Grip:

21mm

Stroke:

2.8mm

Weight:

3oz

Needle:

Cartridge