---
How Good is the Coil and Rotary Line-up by Eikon?
Where other tattoo machine makers are trying to cram all of the various operations (lining, shading, packing) into the same unit, Eikon takes another way to do things.
This approach led to the birth of a series of models that are specially tuned by an expert tattoo artist, Mack Bregg.
Today, we take the spotlight to two (2) of the best-selling, long-serving tattoo machines from the stables of this company: the Green Monster coil and Symbeos rotary.
The Green Monster – Coil Series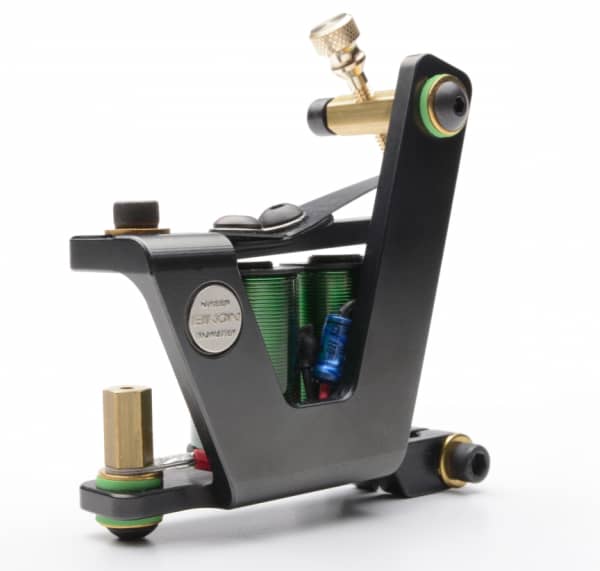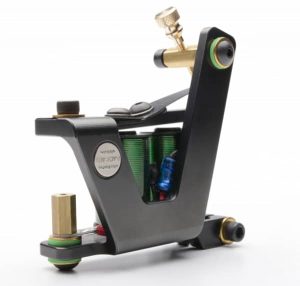 The Green Monster coil tattoo machine redefined how their were designed and accepted in the industry.
Instead of just throwing them to the market and telling the experts that it does a good job, the brand started the trend of providing deeper insights into the various of their models.
Focusing on power, performance and speed, they made available actionable data so professionals using their machines could use the information and to make a better decision on their work.
As of today, the Green Monster line-up is still here, pushing the boundaries of what's possible within the coil line.
Let's talk about its strong and weak points.
What to look in the design?

Although, the machine comes with different tuning alternatives, Eikon did an acceptable job in keeping the design uniform.
As a result, we have a single signature V-shaped design across all their configurations.
Speaking of configuration, you can select a unit dedicated to do lining, shading, fine lining and coloring. The names are self-explanatory on what each unit is best for.
The brand adds a fine touch with adjustable parts that improve the durability (thus, longevity) of these machines.
Seeing as the cost could add up, we appreciate any design element that ensures a lasts long tool.
Over time, the brand had made different changes and additions to the frame to improve efficiency and functionality.
Some of the most noticeable changes is with cold-rolled steel (1018 grade) frame, eliminating flimsiness and promoting strength and stability when working.
That is only improved with the addition of the armature spring bars (made in-house) to further ensure cohesiveness of operation.
Having been tested and improved for over a decade now, this design simply works and gets the job done across various jobs that the machines are deployed to.
Each unit in the Green Monster coil tattoo machine line-up is custom-tuned to generate a peak voltage that works with the operation at hand. That way, the equipment works just right out of the box.
This is also another aspect where the brand tops out other manufactures.
Since lining, shading and coloring will need different voltage levels, users might not be able to get the best results with a single one, since it is challenging to tune them right.
When picking up an Eikon tattoo machine, note the peak voltage levels as indicated below:
– Fine lining – 7.8V
– Coloring – 8.4V
– Shading – 7.7V
– Lining  – 8.8V
What is the needle compatibility?
In general, their machines work best with standard needles.
If you prefer cartridges instead, or you would just like to have that option, look at the Dan Kubin custom tattoo machines that are optimized to work with both.
To make things easier for experts artists that choose this unit, they have created needles of their own.
Dubbed Hydra needles, they are made available in three (3) different textures and styles to choose from.
These needles are precisely manufactured to fit with the Green Monster and other machines that the company develops.
Read More: Tattoo Needles Guide 2021 – What you Need to Know.
The different needles on offer from them are:
– Textured needles – promotes maximum ink adhesion;
– Standard needles – largest of the bunch, offering 45 different configurations and,
– Bugpin – for delicate work and finishing operations.
Best performance
Eikon tattoo machines are not made to be a one-size-fits-all model.
They have, instead, been specially engineered and tuned to work differently for diverse applications.
As the name implies, two (2) of them are great for lining works.
Depending on the delicateness of the design, users can choose between the standard lining and fine lining machines. Elsewhere, there is the option to choose the shader, or coloring machine.
Fine liner and standard
This configuration is characterized by an extremely lightweight armature bar, which gives it a shorter stroke and improved speed.
On the standard one, everything is almost the same, save for the capacitor carrying an increased rating (22nF) for deeper strokes than the former unit.
The shader and coloring ones
Moving to the shader, there is an even bigger capacitor (33nF). It doesn't slow the machine down, given the speeds at which it still delivers ink on the subject's skin.
On the further upside, it packs more power to work in blends and shades better.
The coloring machine carries the biggest capacitor of all, rated at 47nF. The armature bar is also the heaviest of the bunch, aptly designed to pack colors correctly and deliver an even blend / stroke.
Ease of Use
This has been said several times already, but it deserves to be said again.
Tuning each device to a unique operation makes it way easier to use.
Setup time is almost reduced since you can just pick up the unit and be sure it would work as required.
This is mainly as it has been tuned by a veteran with more than 30 years of practical industry experience.
Besides, the brand machines are and ergonomically designed. This reduces the strain and pressure on the wrists when using them on long tattooing sessions.
What are the possible deal-breakers?
The specificity of operations makes these coil tattoo machines line great, but it is also their strongest undoing by some users.
Once you start adding the different units up for multiple operations, the costs start going up the roof.
Although they last longer and provide good value for money in the long run, that initial investment could drive off some potential users.
Depending on your tastes, some people have also found the coloring configuration a little bit light on the hand.
Again, this is a personal opinion and the machine might be a match made in heaven for you. Try it out before getting one so you can rest assured it meets your needs.
Finally, we don't like the fact that it doesn't support cartridges. There's nothing wrong with standard needles, but we would have loved to have that option in the mix anyway.
Eikon Symbeos – Rotary Series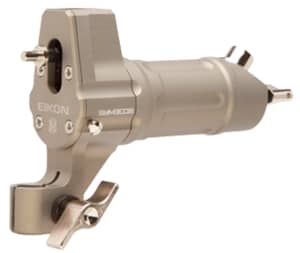 Somewhere up there, when discussing the Green Monster, we mentioned how Eikon entered the market and changed how we see the entire line today.
That is the same thing that they did with the Symbeos – and with style.
Teaming up with the guys over at HM Tools & Dye, the company came up with a rotary tattoo machine that offered the flexibility and tuning range of their coil line, while retaining all of the cool features.
If there was ever something like a hybrid tattoo machine, this one will lead the pack.
The changes in design
Their attention to detail saw the introduction of 7075 series aircraft aluminum on this tattoo gun.
This approach helped them to ensure that the unit was as possible to be molded while not being flimsy at the same time.
Aircraft aluminum is also highly durable, so this machine is sure to last longer.
That is not the interesting part of the design, though.
The Symbeos was developed with a variety of moving parts, in such a way, that it can be configured to taste by the tattoo artist.
To put an example, the company wanted to improve its functionality, therefore some of the design elements of the machine were geared towards noise reduction.
Another one would be the stroke wheels. It features oversized German FAG-brand bearings, which dull down the noise considerably.
In addition to the above, they also added swiss-made Maxon motors, which get the job done without making a fuss while at it.
Finally, the Symbeos is not lacking in the looks department. While it is not just another pretty face, a futureproof design and several paint jobs make this one a looker for your tattoo studio.
What you get in voltage range
The voltage level of the machine is dependent on the kind of motor that you choose.
In this case, there are three (3) different motors on offer for this machine:
– #4 motor (10V): best for lining. high speed also makes it great for grey and black shading
– #5 motor (10V): medium speed motor with low torque. Also great for shading black and grey, but with much smaller configurations that require a slower stroke.
– #6 motor (12V): need to pack in a lot of colors? This is the motor for you. Pairs high torque with a medium-speed setup.
Read More: Tattoo Machine Power Supply Basics and Guide for 2021.
What needles are good for the Symbeos?
Like the Green Monster, Eikon has chosen to stay away from cartridges here and rather support standard needles.
It would've been nice if they consider cartridge support on the next variation of this tattoo machine.
Given that they seem to have their target market set already – and they are making good sales in that department – they might not see the need to expand the line-up to accommodate cartridge lovers.
On the upside, though, this unit pairs amazingly with standard needles to deliver the needed results, so we cannot complain.
Where to use it best?
According to top tattoo artists and countless others who have used these machines, they are great for:
– Delicate line work.
– Heavy color packing.
– Shading in black and grey colors.
– Achieving better line mastery.
– Working colors in better, such that they last for longer.
— Those are some of the common best use cases, among others.
The more refined machine is also best used on sensitive skin. Owing to the configurations and mode of operation, it is less likely to cause a reaction on the client's body when the work is done.
How comfortable you will feel when using it?
This is probably where the Symbeos rotary tattoo machine series shine the best.
We all know that most pro users were initially trained with the old school line and as result, they usually switch back to it when trying out a rotary configuration.
It is usually due to the lack of customizations, weight and freedom.
Despite of this being the case, users stay with rotaries as they can also have easy access to any of the main components for troubleshooting.
This flexibility allows the rotary machine to live up to the hype as one of the best, if not the best, out there.
The low hum of the machine is also laudable. Besides the fact that lesser power is wasted as sound energy, it also makes the entire session better enjoyable for the artist and their client.
That is not to mention the absence of discomfort that usually accompanies humming and the vibrations they bring.
What could be a no deal?
The only dealbreaker worthy of mentioning here is with the user.
Given the extreme customization option of this machine, you might get things wrong if you don't know what you are doing. It is, thus, better to stick with the standard setup or other setups that you know to work.
Read More: How to Tune a Tattoo Machine – 5 Tips for A Good Lining & Shading.
If you have tattooed with an old school machine, though, you should not have any issues breaking this one in.
Wrapping Up
Eikon tattoo machines have carved out a niche for themselves in redefining how they are seen in the market.
In the coil category, they provided artists with actionable metrics that allow them to set the equipment to their taste, know what and why they are getting it.
On the Symbeos, they solved the problem that most artists had with rotary category, allowing a never-before-seen flexibility and customization upfront.
Combined, it is little wonder why they are a top seller in both of the categories they find themselves in.
Images courtesy of: Eikon – Tattoo Equipment & Supplies.
---