---
Solong is making giant strides in the tattoo machine niche – and they're doing it in style with portable units.
That portability is the first central selling point of their Hybrid Dual Control Rotary Tattoo Machine (EM139) and the relatively new Short Pen Rotary Tattoo Machine (EM146).
While both machines promise to handle lining, shading, and color packing, there is usually skepticism about rotary machines and the new pen types.
I'll dive into everything the specs sheet doesn't say. Here's how these two (2) machines – for now- compare under real-life tests and usage.
Solong Hybrid Dual Control EM139

The EM139 tattoo machine threatens to become the next best rotary model you'll use. That's guaranteed in the mix of a sleek design, a kit that brings standard needle configurations, and a dual power control option to boot.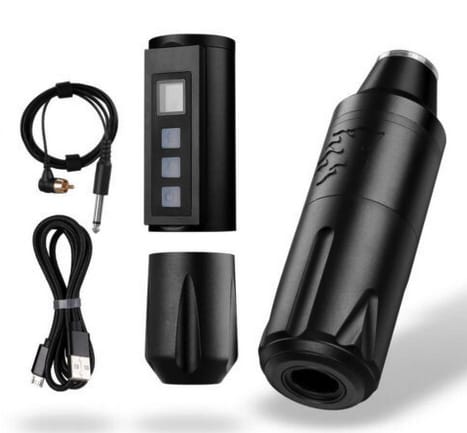 When it comes to everyday usage, what that could mean to you?
The design
Design isn't the testament to how good a machine will work, but you want a functional model in the tattoo world. You don't want a machine that leans to the right or left too much or isn't designed for seamless handling.
I like how this Solong machine balances right with excellent grip. It isn't too heavy, that you would notice during use and not too light, that it would feel flimsy either. This balance scores Solong extra points in the user experience section, I think.
The machine's ergonomic design extends into the add-on battery unit, but I'll discuss the power in subsequent sections.
Perhaps the most impressive thing about this design is how you can use both battery and RCA power supply, depending on which one you see fit.
This is another point that I'll expand upon in the power unit section.
Out of the box, though, the company makes a valid statement about the unit's design, and it resonates throughout the rest of this review.
Finally, you get an extra, more significant grip with the device for users who prefer that. The grips are easy to swap out, making for a user-friendly design.
All that's nothing if the machine fails on the power supply, so here we go.
Voltage and power supply
The brand ships the machine with both RCA cord and also with a battery, which offers a versatile wireless option.
So far, it seems they have managed to hit the wireless tattoo machine industry hard with more affordable alternatives and yet offering quality.
This is a nice setup since most battery-powered rotary tattoo machines only come with that option.
Batteries will go bad over time, and you might stop getting enough power from them. With this option, you can always switch the power supply.
Moving on from there, you'd also love that this machine can go as low as 5V while still supplying a good hit. That's rare with many machines, and the detailing with this low voltage means the power supply is reliable enough.
You'll most likely not need more than 7.5-8V for all the operations, but if you need more, the unit can get as high as 11V.
Solong chose a magnetic integration option, which makes it easier to remove the RCA adapter or battery add-on to use the other. This adds to the ease of use on the power side.
Ease of use and handling
The design section shows that you get an ergonomic approach to pen-style tattoo machines here.
The extra aluminum grip that ships with the unit allows you to improve your handling before adding grip tape on the top. Fortunately, it's easy to switch out the grips with the screw-on mechanism.
I didn't mention the unit's vibration in the power section: You start getting some vibration around the highest voltage ranges, which I don't think you'll need to use anyway. Even if you did need to use them, those vibration levels are nothing out of the ordinary.
Solong ships membrane cartridges with this unit (if you get the kit), so I know that's what they're best tuned for. You also get to use higher mags for your operations – of which this unit can handle shading and lining just fine – if your work requires that.
The 7.5-8V range is excellent for lining, as I said earlier, and you still get a brush-like feel from the soft hit of this device.
If you've used a pen tattoo machine before, installing the needles and adjusting their depth is no different from what you're used to.
The device is stable at high voltage, doesn't heat up irrationally, and pushes the needle with an excellent grip.
What operations is the Solong EM139 rotary tattoo machine great for?
I've mentioned this throughout the review, but you'll get good lines and shades off with this machine.
It can pack black well enough, pull good lines with brown shaders, and handles stippling without struggling.
You'll also appreciate the impressive dot work you can get on this one and all the fine textures on your work.
If you like to push larger needle configurations, I think it is up for the task.
Solong Short Pen EM146

The company made this the bomb out of all rotary tattoo machines you've used.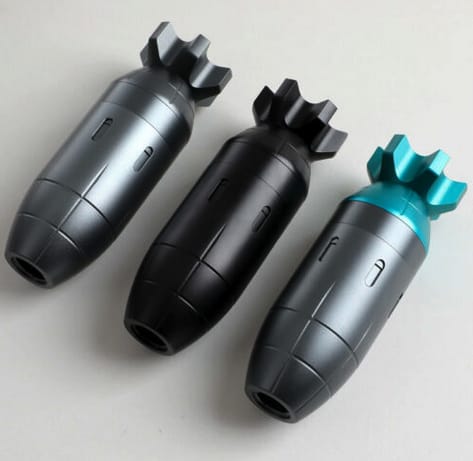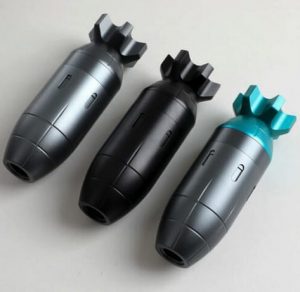 How do they manage that, and does this machine live up to the hype?
If you want all the technical specifications, you can check out the official page on Solong's website for that.
The EM146 design
The design is undoubtedly an eye-catcher, featuring a bomb-like shape with a particular metal casing.
I had a lot of thoughts about how it might affect the weight and balance, especially with the fan-like bottom spreading out. Surprisingly, it was as natural to the touch as the EM139 unit above or any other reliable pen tattoo machine I've held.
This one comes slightly shorter but sturdier, a choice that I believe is inspired by the unit's balance.
The streamlined design makes gliding through your canvas and client's skin easier and feels more natural. Without leaning in any direction, your wrists aren't easily fatigued, so you can work for longer sessions at once.
But then, the tattoo machine's design alone never made a good tattoo, so let's get into some specs.
Voltage and power unit
Unlike the EM139 model, the brand chose to ship this one with only an RCA power supply option. Fortunately, you can still keep this unit wireless with an aftermarket RCA power supply alternative.
This tattoo machine might be rated 8-11V, but that doesn't tell the whole story. A couple of tests show you can get good work done at even lower voltage levels. For example, lining with a soft hit is possible at the 5.5V level. Going below this option doesn't give you enough power though to make anything happen. Still, you might want to experiment with that.
No matter how you look at it, you get decent power at the average voltage levels to do some impressive work.
The ideal usage range for shading operations is 7.5 – 8.5V. Again, your style (or design at hand) may demand more – so you can adjust this accordingly.
This machine provides a no-fuss, low vibration experience with customizable hit levels to achieve the desired elements.
How easy is it to use it over more extended periods with all that in tow? Find out below.
Handling and using this model

The Solong Short Pen EM146 was designed to be more of a shading machine, but I think you can get lining operations done just fine with it.
Compared to the above-reviewed unit, this one doesn't come with an extra grip, unfortunately, so you might have to include that in your order. Otherwise, you could wrap your grip tape and towels enough to provide the level of grip you want.
When using at the rated levels of between 8-11V, expect some minor vibration. The good news is that the vibrations aren't too much to handle while the machine stays relatively quiet.
A nice balance from the streamlined, ergonomic design means less strain on your wrists.
The pen tattoo machine isn't too big for handling either, so you'll get your fingers around it just fine. You might have to wrap it to specs to get the right grip level.
If low voltage work is one of your specialties, you can get a good job done at 5.5V. Going below this might cause too much trauma to your client's skin, so check that out.
When at this lower level, remember to adjust your hand speed to get all the relevant colors in without missing any essential spots.
What's the EM146 short pen rotary machine best for?
I would recommend this one for shading before lining, but it handles lining ok.
At about 5.5V, the give and hit of the machine allow for highly detailed lining work. You can adjust it slightly based on the intricacies of your chosen design.
I also like how it handles dot work cleanly and efficiently. You'd have to use cartridge needles to get the best out of this one.
Solong sells some compatible needles, but you don't have to use theirs if you have a personal preference for another reliable brand.
Packing blacks and colors with ease from around 7.5V, maintaining ideal saturation, and delivering natural-feeling shades, this is a versatile version you'd want to have in your arsenal.
Final Thoughts on The Solong Tattoo Machines
Both units are great for lining and shading, handle dot work without hassle and help you to get better details in your results. They're not all the same in all aspects, though.
I prefer the Solong EM139 as it allows for hybrid power operations; even shipping with a battery that fits like a glove. The battery lasts pretty long and comes with all the controls I need.
You can easily switch to the RCA power unit when batteries fail. You can plug directly or wirelessly with an RCA adapter.
Again, you don't get that option on the EM146. Still, it's not much of a dealbreaker since you can also buy an aftermarket wireless RCA adapter.
Once we have that out of the way, the rest comes down to personal preferences.
Images courtesy of Solong Tattoo.
---