---
Dragonhawk Tattoo Machines are Considered the Best Value for Money, but Are They Really That Good?
Tattoo artists who use any Dragonhawk tattoo machine can attest to their efficiency, allowing the user to work faster while clients get one of the most pleasant experiences.
To make it simple and accessible, the table below shows just a few of the leading rotary machines the brand has built so far.
Following this table, you will see a short review of each of the machines listed; however, if you'd like to read further information, click on the "review" button.
Summary of Their Old but Reliable Rotary Models
Extreme X2
Pros:
– Uses both standard and cartridge needles.
– Runs smoothly with minimal vibration.
Cons:
– RCA cord only.
Specs:
– Frame material: brass.
– Voltage range: 6 – 9v.
– Weight: 135 g (4.76 oz).
– Needles compatibility: standard.
Dragonhawk Space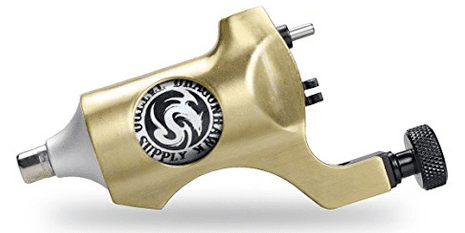 Pros:
– Affordable at under $100.
– Runs smoothly and quietly.
– Has a single grip for excellent control and accuracy.
Cons:
– Needs alignment that beginners might find a bit challenging.
Specs:
– Frame material: aluminum.
– Voltage range: Lining: 7 – 8.5V; shading: 8 – 10V.
– Weight: 117 g (4.14 oz).
– Needles compatibility: standard.
Airfoil V4
Pros:
– Strong space aluminum frame.
– Works with all cartridge and tattoo grips and needles.
Cons:
– This one is also an RCA cord only.
Specs:
– Frame material: aluminum.
– Voltage range: 8 – 9V (lining); 7.5 – 8.5V (shading); 4 – 5V (stippling).
– Weight: 117 grams (4.3 oz) (121 g).
– Needles compatibility: standard and cartridge.
Extreme V2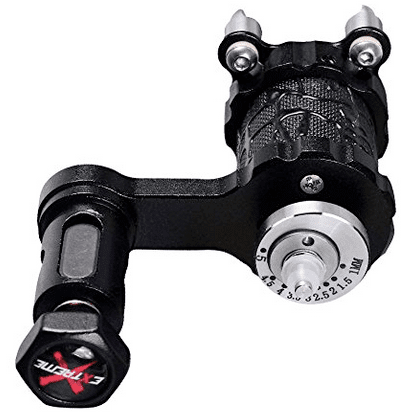 Pros:
– High puncturing power and frequency.
Cons:
– You have to stop for a moment to adjust the wheel, but otherwise, it works perfectly.
– Too heavy for long sessions.
Specs:
– Frame material: carbon steel.
– Voltage range: 7 – 8.5V.
– Weight: 117 grams (7.8 oz) (221 g).
– Needles compatibility: standard and cartridge.
The New Generation From The Brand
Once you get a hold of their creations, I bet you'll be stoked about it!
Everything from its design to the compatible needles, ink, and power supply is worth having.
Here are some great reviews of the latest models to provide you with the best information possible about the brand.
Dragonhawk Raven 2 Review
Our rate: 4.3 stars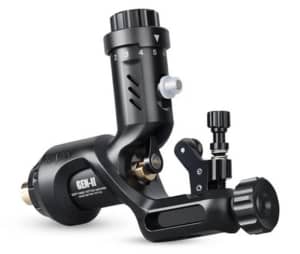 Raven could be one of the best creations by the brand, ready to boost their game with a semi-professional tool.
Some of its most important features are:
– It has a Japanese motor, which is known for its reliability and good torque. This is good if you are thinking of running it at low voltages.
– It features a mixture of sturdy, scratch-resistant ABS (Acrylonitrile Butadiene Styrene) plastic and a light metal frame. From what I know, this is the first tattoo machine to use "molded injected plastic," which is known to be very durable.
– As a result of the above, the Raven 2 is a very light machine, at only 88 grams (3.1 oz).
This model could be a good option for beginners; however, it has other features that can complicate their lives, such as stroke adjustment.
– SpringBoost and One Touch Technology will make your life easy when adjusting the voltage. This is good in terms of selecting your ideal setup.
– An ergonomically designed grip simulates the natural feel of drawing with a pen—an excellent feature for a rookie.
– Unfortunately, this machine is not wireless-ready yet, but still, it has two (2) power supply options to select from, RCA or clip cord.
– Convenient Mast cartridge grip is compatible with all significant needle configurations.
– Variable voltage operation between 3 and 10 volts makes it the perfect tool for drawing grey palette realistic, dot work, or new school styles.
– As mentioned, it's designed to operate traditional tattoo needles and cartridge grips, but keep in mind you'll need a start jump power supply if used with cartridges.
– The autoclavable grip makes it easy to sanitize between tattoo sessions.
Lastly, I also like the hit adjuster that allows you to get both hard and soft hits.
Pros
Cons
A mixture of metal and mouldable ABS plastic materials creates a solid and lightweight frame.

Compatible with traditional needles and cartridges.

Variable voltage operation for easy operation.

 The power connection is known to be weak, and you might run into some issues (but very unlikely).
This latest generation of the Raven line is an excellent choice for beginners and more experienced tattoo artists looking for a lightweight tattooing tool.
Its efficiency is guaranteed by the small Japanese motor, while the ergonomic grip makes it easy to handle.
The Horus Rotary Review
Our rate: 3.9 stars
Artists looking for a versatile machine might like the Horus.
Dubbed as the "supreme" one by enthusiasts, it impresses with adjustable stroke length and good performance.
These are what I think are the main points:
– The solid block pure brass frame delivers unrivaled balance and stability. Nevertheless, at 142 grams, I think it's a bit heavy for its size. I would suggest staying away from it if you are a beginner.
– Adjustable stroke length from 1mm to 4mm makes it suitable for all tattooing styles and techniques. If I'm correct, this would be the first rotary tattoo machine with the lowest stroke length.
– Like most tattoo machines, the Horus is compatible with all standard cartridges and traditional tattoo grips as well.
– It is only RCA powered, unfortunately. Regardless of that, I haven't seen any issue with the connection quality so far.
– Smoother, quieter operation compared to other tattoo guns in its class.
– A solid steel spring and armature bar setup ensures a more stable frequency and robust rebound.
– The custom coreless motor delivers high torque even with a low voltage.
– I like that it can enhance the lining approach, making it incredibly good for blackwork artists.
The Horus model is a perfectly balanced and incredibly performing machine for intermediate and experienced artists.
Variable voltage from 4 to 12 volts makes it a good alternative for most works, especially if it comes at an affordable price.
Pros

Cons

Solid frame that will ensure good quality and longevity.

The stroke length range is impressive, making it very versatile.

Like the stroke, the voltage will let you get any shading or lining work without issues.

Even though the frame is solid, the weight could be an issue for some new artists. If you think you can handle this, then go for it.
For now, it does not come ready for a wireless battery connection, but it will deliver all you need to create great artwork.
A solid frame, powerful motor, and plenty of adjustability features can conquer you easily.
The Mast Pen-Style rotary Review
Our rate: 4.4 stars

If you're looking for the best pen-style rotary machine, the Dragonhawk Mast Pen model might be the one.
Lightweight, compact, and boasting wireless capability, it's perfect for the artist who wants the flexibility to tattoo anywhere, anytime.
Here are some of its most exciting features at a glance:
– This simple, classic machine is particularly suitable for black and grey shading, solid color packing, and precise line work.
– Weighing only 82 grams, the machine is easy to hold and handle—a perfect choice for artists of all levels.
– Aside from being a "lightweight rotary tattoo machine," the laser engraved logo adds a touch of class, enhancing the aesthetic and giving a professional look to this versatile machine.
– It boasts variable voltage output from 3 to 18 volts. Its 3.5mm stroke length is versatile enough for all styles and purposes.
Lastly, it is compatible with all standard tattoo supplies, including classic needles and cartridges.
Outstanding aspects
What I have listed above are just a few facts about this model.
Nevertheless, there are a couple of things that I found outstanding:
– The Frame:
I am a fan of non-heavy machines. As you may know, rotary pen-style ones are usually quite heavy, which is not the case thanks to the solid high-grade polished anodized aluminum.
– Power Supply Compatibility:
Tattoo machines are constantly evolving, and this one has too.
The compatibility with the RCA cord and the Mast Saber wireless battery will deliver the flexibility of tattooing wherever I am.
It might be the smallest tattoo machine of its kind, but it packs a punch. It's small enough to slip into your pocket.
Pros
Cons
Effortless to cover and protect. Compatible with all cartridges currently on the market.

Flexible and lightweight pen-like design.

The cordless motor configuration suits any battery.

Autoclavable, which will ensure the safety of your customers.

LED display of the battery indicates working voltages to make it easy for the artist to switch as required.

Relatively awkward to make needle adjustments.

I found it vibrates more than I expected it would.
About the wireless battery

Considering the size of the wireless battery pack, I think it should last long enough for a single session (around 6 hrs).
Despite this, I recommend you have a second set ready to be used or get the RCA cord.
That is why I love this feature. You can also save some money by connecting it directly to the power socket.
It's also attractive from a visual standpoint. Suitable for travel or a nice gift for an aspiring tattoo artist.
This Dragonhawk Mast Pen suits beginners and seasoned artists alike.
The voltage range (6 to 11V) is not bad at all.
I believe it is best for shading, but some users have indicated it does well with lining too.
The Extreme X3 Review (Direct Drive)
Our rate: 4.1 stars

When you think about a superior yet affordable rotary tattoo machine, the Extreme X3 model fits precisely that description.
This is what you can expect with the V3:
– The machine comes in an attractive black frame, but its reputation goes beyond its outward appearance.
– It was designed to give artists and their clients a smooth tattooing experience.
It allows for incredible accuracy and control and helps you achieve precision even in intricate tattoo designs.
The machine also feels very comfortable in the hand, and you can efficiently work for long sessions.
Designed for great versatility, the X3 is compatible with all disposable cartridge needles.
Besides, it works well for lining and shading, with an adjustable needle length stroke from 1mm to 4mm.
Pros
– Lightweight at 7.8oz.
– Very quiet with minimal vibration.
– Powerful direct-drive motor.
– Compatible with all cartridge grips and tattoo grips.
– Adjustable needle length stroke of between 1mm to 5mm to help you accomplish a wide range of tattoo designs.
– It is affordable at under $100 dollars.
– High puncturing power and frequency.
Cons
– You must stop to adjust the wheel, but otherwise, it works perfectly.
– It only fits with cartridge needles, which is sad for a Pro model.
This model is powered by a direct drive motor that ensures smooth and efficient operation.
Both beginners and experienced users can undoubtedly attest to the superior nature of this machine.
It comes with a one-year warranty.
Final Thoughts before buying a Dragonhawk Tattoo Gun
Tattooing is getting more accessible and more exciting with the availability of sophisticated yet affordable models.
Tattoo artists can now enjoy lighter, more comfortable, and accurate tattoo guns to help design great art.
The benefits stretch to the clients, too, as they can have their tattoos inked faster and, overall, have a more pleasant experience.
The machines featured here from the Dragonhawk Tattoo Machine brand offer efficiency, durability, greater accuracy, control, and affordability.
Images courtesy of Dragonhawkoutlet
---