---
Dragonhawk also has its coil models with the Compass Tattoo Machine. Are They Good?

Dragonhawk is well known to be one of the top providers of affordable rotary tattoo machines and supplies. But, knowing there is more to offer, they created a coil line to fulfill all range of artists that love the traditional tools.
Here is a list of some of the coil tattoo machines the house of Dragonhawk has created:
 Table Summary of the Coil Line

Compass Tahiti / Portland

Compass Plata / Fuego

Compass Samar WQ2063

Compass Plenty / Hawke

Main Feature
Provides great stability and
comfort in the hand.
Affordable at under $100.
Runs fast, smoothly and
quietly.
Smooth running and efficient.
Best for: shader or liner?
Tahiti: Liner
Portland: Shader
Plata: Liner
Fuego: Shader
Shader
Plenty: Liner
Hawke: Shader.
Frame Material
Iron.
Steel.
Steel.
Steel.
Speed / Volts
Tahiti: 130 Hz.
Portland: 100 Hz.
7-8V both.
Plata: 130 Hz.
Fuego: 100 Hz.
7-8V both.
110 Hz
7-8V.
Plenty: 130Hz
Hawke: 100Hz
7-8V.
Weight
8.2 oz.
7.8 oz.
7.8 oz.
Plenty: 7.7 oz.
Hawke: 7.8 oz.
Warranty
1 year.


1 year.


1 year.


1 year.


Tahiti Liner & Portland Shader

These pair of Dragonhawk coil tattoo guns are designed to provide excellent stability and comfort in the hands of the artist.
Both machines are made of sturdy steel material to ensure durability.
Even beginners in tattooing will easily use both machines as long as they are correctly tuned.
Read More: How to Tune a Tattoo Machine – 5 Tips for A Good Lining & Shading.
The Tahiti model with 8 coils
The Tahiti Liner has 8 wrap copper coils which help to run it efficiently.
You will easily make solid lines with a single stroke.
The stroke (I believe it is 4mm) ability is a superior quality that allows you to produce impeccable lines before you can start shading the design.
The Tahiti Liner runs at speeds from 130 to 150HZ.
The Portland model with 10 coils
On the other side, the Portland has been included in this package for equally great shading.
Running at speeds between 100 and 110HZ, this shader makes tattooing a pleasant experience.
It comes with 10 wraps of copper coils that help it run smoothly.
Although coil tattoo guns tend to be noisy due to the high vibration, the Dragonhawk Tahiti and Portland Compass models are considered quiet.
This package comes with a one-year warranty.
Pros
– Both are made of a strong steel frame.
– Their design is simple but still appealing compared to models from independent artists.
– Affordable machine that is perfect for beginners looking for a good start.
– Provides excellent stability and comfort in the hand, especially for those that love some weight.
– Both machines are of medium size, which makes them easy to handle.
Cons
– It is slightly heavier than expected because of the steel frame.
– Tuning could be a little bit difficult, which may be challenging for beginners.
Plata Liner & Fuego Shader


This is a package of two (2) with the Plater used for lining and the Fuego for shading.
The package has been designed to produce good tattoos and give artists and clients an enjoyable experience.
Being of medium size, the machines fit well in hand and help you work efficiently without getting too tired.
Beginners in tattooing will also find pleasure in using them, even if this is your first ever set of guns.
The Plata model with 8 coils

The Plata has eight wraps of copper coils, which allows for faster movement of the tattoo needles during lining.
It also runs on a power of between 130-150HZ, which helps to create a good balance between the power of the machine and its speed.
The Plata thus enables you to work fast and efficiently.
The Fuego model – 10 wrap coils
The Fuego, on the other hand, operates at a speed of between 100 and 110HZ.
This shader is powered by 10 wraps of copper coils and works fast and efficiently.
The package containing both machines comes with a one-year warranty.
Pros
– Fast and efficient machines.
– It provides an outstanding balance between power and speed.
– Have a sturdy steel frame.
– Affordable at under $300 for both machines.
Cons
– Slightly heavy due to the steel frame.
– Beginners might have a challenge setting up and tuning the machines.
Samar WQ2063 – 10 wraps


The Samar shader Compass Tattoo Machine works effectively to produce amazing tattoos.
If you are looking for a machine that runs smooth, works fast, and is quiet for its type, this could be the one.
It does not matter whether you are a beginner or experienced in tattooing. You will have an easy time using this machine.
It is powerful and hits hard with a speed of 110HZ.
Besides, the ten wraps of copper coils ensure that the machine works in short, fast strokes.
The Compass Samar Shader is made of a steel frame to ensure durability.
For ease of use, it only weighs 7.8oz (221 g). Some artists find it quite okay to hold for long hours, but it could be a different story if your like hand speed.
The WQ2063 tattoo machine comes in a fantastic leather encase to keep it protected while not in use.
Similar to the other tattoo guns mentioned above, you will get a one-year warranty with the purchase.
Pros
– Runs fast, smoothly, and quietly.
– Has an appealing design and finish.
– Affordable at slightly above $100.
– Has a sturdy steel frame that will last a few years.
– Lightweight for artists looking to put less pressure using the hand.
Cons
– No standard bolts are used to keep the parts and frame together.
Deluxe Compass 2 – Plenty Liner/ Hawke Shader – 8 wraps


This combo of a liner and shader is one of the best packages a tattoo artist can ask for at an affordable cost.
Both machines have been designed to give tattoo clients a great experience through fast tattooing that causes minimal trauma to the skin.
Besides, the artists will enjoy the tattooing process because both machines run exceptionally smoothly.
The Plenty model
This liner tattoo machine runs on a speed of 130-150 HZ, allowing it to work fast.
It also operates on 8 wraps of copper coil that ensure short and fast strokes, translating to less trauma on the tattooed skin.
It is a light machine that weighs 7.7oz (218 g), so you can work for long tattoo sessions with great ease.
The Hawke model
The second pair is the Hawke Shader, which operates at 100-110Hz and helps you move faster across your tattoo designs.
It has 8 wraps of copper coils for short and fast strokes and weighs in at 7.8oz (220 g).
The Plenty Liner and Hawke Shader are made of a strong steel frame, with an appealing design and size that makes them particularly convenient to use.
Beginners can use this machine as comfortably as experienced tattoo artists because it has been designed to run efficiently without any complexities.
This package has a one-year warranty.
Pros
– Smooth running and efficient.
– Have a strong and solid steel frame.
– Powerful machines that cause minimal trauma to the skin.
Cons
– It may be hard to sanitize due to its exposed operating parts.
Dragonhawk Mast Liner 3031 – 10 wraps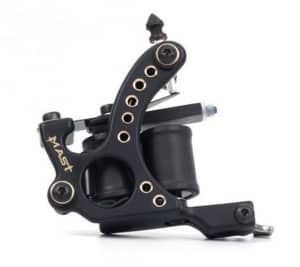 The brand was not looking to stop just with the Compass line.
As the Mast line is becoming popular on the market for rotary tattoo machines, they decided that a coil configuration was necessary.
As you see, this Mast 3031 model was built using 10 coils, which in theory should run between 8 and 10V with no issues.
With that voltage range, you should be more than okay to do good dark work, but the stroke is also important.
Based on the speed the needle (standard) will run (140Hz), the stroke is around 4.2 mm.
What I love most about this version is how it looks with the black matte frame paint and the gold holes in it, making it look badass.
Some other things I like:
– It was built to hit hard, so you won't need to go several times through the same worked area (and good for the client's skin).
– Made using iron, the frame is solid and not as heavy (around 7.5 oz – 212 g) as any other steel frame.
– All the connections and cables look very neat.
– Apparently, it can also be good enough for shading works (but careful as that speed can be bad for some skins).
What could be improved:
– As with any other coil tattoo gun, this one is also difficult to tune. Some artists have also mentioned that the configuration can be changed.
The Golden 12 Wraps coils Shader

The last on the list (for now) is the Golden 12 wrap coil.
This Dragonhawk coil tattoo machine hasn't have much difference from the previous models; however, with 12 wraps, it will ensure the ideal Hz for a good punch.
I guess what makes it ideal is the possibility to run larger needles (around 25M), something that other machines can't do easily.
In addition to the above, you can get a voltage range from 6 to 10V, so it would be best suited for shading designs.
Similar to the Mast version, this one also has a clean finish.
Last but not least, the downsides:
From what I've seen from other users, it will also be a struggle to tune the speed of the machine.
Despite using a brass frame, it would be the heaviest so far (230 g – 7.9 oz), so for non-experience tattoo artists, this one could give some hand cramps.
Dragonhawk Compass Tattoo Machine Last Words
The six (6) machines reviewed above are a testament to the fact that modern coil tattoo machines can give both the artists and clients unique experiences.
Whether you need standard power with an 8 coil configuration or a bit more for better lining work, any of the above models can deliver reliability for a very affordable price.
The Compass Tattoo Machines line, plus what is coming from other series – such as the Mast line- show that you don't need to expend a lot of dollars to come up with something valuable and decent.
Images courtesy of Dragonhawk
---