---
A tattoo artist who has been in the industry for over two decades is manufacturing precision and great value for money.
The result will most likely be a Micky Sharpz tattoo machine.
Born in the UK and sold in the US, the custom tattoo machine setups that leave the Birmingham shop have been the darling of many artists for a long time now and globally so.
While the company now carries a wide range of products, two lines stand out: the Nano Dial Liner and Hybrid.
Both lines have been refined and revised over the years to get even better. But how good are they, exactly?
Nano Dial Liner

Before the launch of this unit, he already had the Micro Dial Liner making rounds in the market.
The brand could have left it there since there was a lot of success. In fact, it is still a staple for some users today.
As always, he went into a setup to uncover what worked, paired it with what worked better, and came up with the new model.
Digging under the hood of this new one, let's see what it brings to the table.
The design used in this machine
The design of the nano dial liner and the micro-dial liner is enough to set these coil tattoo machines apart.
On the new model, he loses all the extra telephone dial outlines and keeps a single hole in the machine frame.
This takes the machine away from the usual style that we have come to know.
We believe it makes more sense from a safety point of view:
– For one, the new design makes it less possible for the fingers to crawl into one of the holes during operation.
– Foreign objects also have a lesser chance of getting stuck in the machine via those holes.
Besides that, the new nano dial liner was made from the same superior cast iron material as the older model.
While that ensures durability and ruggedness of the unit, he did an extra step by adding a better polish and finishing here.
It's not like the excellent paint job will do anything to improve the machine's functionality; however, a true artist's mark is also in how aesthetically pleasing yet functional their frame arrangement is.
Suggested voltage
As the name implies, this is a liner machine that will get the best results within the 7 – 8.5V range.
However, that is not the same for all artists, depending on their preferences and the kind of lining job they're doing.
Thus, Micky Sharpz has done well to account for that in allowing a 6 – 12V range on these machines.
While it would not be advisable to use the 6V (the hit would be too soft to get anything meaningful done), you don't want to max out, lest you hurt the client's skin.
Working with the correct needle group
Coil tattoo machines, like this nano dial liner, are better configured for standard needles. Nevertheless, with some tuning, you should also be able to adapt to cartridges.
If you use cartridges with them at all, it is recommended that you go with the membrane ones.
These forms are better suited to delivering a smoother linear action and give you an even flow throughout the work.
Such smooth flow also ensures consistency (great for you) and faster, less painful deliveries (good for the client).
We would go for this machine if we were heavily based on traditional needlework.
If you're looking for a cartridge-compatible model out of the box, check out our other custom tattoo machine reviews.
Aside from manufacturing handmade tattoo machines, this artist sells needles too (standard and cartridges – membrane and otherwise), so you might want to see what it offers.
The good news is that he didn't tune the units to only work with the needles offered; therefore, you're free to continue with your choice needle supplier if you prefer that.
Read More: Tattoo Needles Guide 2021 – What you Need to Know.
Getting the best performance
The name says it all: this is a liner professional coil tattoo machine.
He tunes this unit in several ways, especially to the lining operation. The machine features a cutback that allows for faster and more positive outlining.
That is bettered by adding high-resolution coils to make the process even more seamless.
Simplicity when using it
Most beginners will learn with a coil configuration, and this one is no different from that.
The fact that the machine is best tuned to one operation also makes it an excellent unit to have.
You don't have to worry about breaking down your tattoo machine and resetting it to fit the perfect lining setup.
Likewise, you spend more money upfront than you would for a handmade tattoo machine. In the long run, you could save more time and operational costs.
Weighing about 200g, the machine is neither too heavy for comfort. These units are best appreciated when you have a job that takes you long hours, and you do away with all that wrist strain that would have come on a heavier unit.
Not buying!
Don't use this model if you are heavy on cartridges instead of standard needles.
Coil tattoo guns have started playing well with cartridges, but that is not their primary focus. Barring that, this 8-wrap coil unit will handle any lining jobs that you throw at it decently.
After more than two decades in the niche and the fact that this is yet an improved model of the stellar micro-dial liner, there isn't much else to break this machine down for.
The Brass Hybrid
Where the Nano Dial is only suitable for lining, the Brass Hybrid tattoo machine packs many more surprises for us under the hood.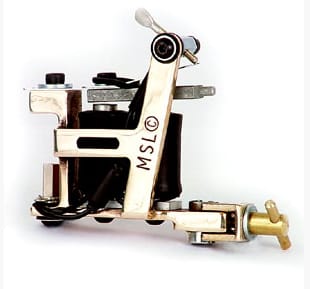 This new range of operations should have been evident from the hybrid naming, and we'll get to that in a minute.
Weighing slightly more (245 gr) than the Nano one, this professional coil tattoo machine still has no strain on the hands and wrists when used.
A little digging under the frame reveals what's unique and what we would change about this alternative model.
The outline is offered for artists.
With this one, Mr. Sharpz continued his run of design elements featuring a beautiful unit and high functionality.
We're not going to go into the aesthetics as much since that is there for everyone to see.
The subtle additions that make this a better coil tattoo machine are worth mentioning.
– It starts with a nicely balanced frame that ensures the weight doesn't lean in any direction when working.
– Such balancing also eliminates the need to counter the sway of the machine when working, reducing wrist strain and improving job quality.
– He ensured the internal components were well aligned by employing high precision lost wax casting. This is laudable from both a design and safety aspect, all combining to improve the build quality of the entire machine.
Manufactured from brass and in-house materials, it is little wonder why everything seems to snap into place and work well with the other parts.
Suggested use of this coil machine
For a hybrid unit, he went all out to make sure this machine handled all of the lining, shading, and coloring ranges.
We are used to tattooing guns that do one of these things right. Sometimes, they could be tuned to do two (usually shading and lining; or shading and coloring). Finding one that handles all three out of the box is rare.
The exciting thing about the unit is that the pricing doesn't go too high to compensate for this.
However, for highly specialized cases, we would prefer that you get a custom-tuned coil to handle these individual tasks.
Those might drive up the cost of your setup, but they'll be well worth the top jobs.
What happened with the voltage?
Micky is not a fan of listing what voltage range comes with the brass hybrid tattoo gun or any of its units.
If there is one thing that is sure from their 35+ years in the market, it is that they know what works and what doesn't.
So, it doesn't faze us that they will allow the right voltage ranges on this machine.
Read More: Tattoo Machine Power Supply Basics and Guide for 2021
Whether you are going in for lining, shading, or coloring, 7 – 10V is a suitable voltage range.
This machine handles that, and we are confident it can do more.
To prevent coil damage, though, lay off the higher voltage levels as you'd likely not have to use them to get the best results.
Possible needles that work okay with it
Every Brass Hybrid tattoo machine is excellent for single needle outlines.
He takes the hybrid thing a step further with cartridge compatibility here too. User reviews mention that you'd succeed with 7 mag and 9 mag needles, but don't try to go beyond that.
It depends on you, though, but that is a safe spot for cartridge needles that still ensures you get the best results.
What could be the user experience?
It is nice to see a setup like this one challenge in a world where rotary machines have taken up space when introducing realistic black and greys.
On top of that, applying for these works with the Brass Hybrid is relatively more fluid and flexible than you would have on a rotary tattoo machine.
We also love that this machine runs soft for lining and shading operations. That is thanks to the more significant back spring paired with a stiffer band to supply the smoother hit that the machine generates.
You can tweak that to meet your standards, of course, but we think it works just right the way it is.
As mentioned before, being relatively lightweight and nicely balanced allows for better enjoyable use of the machine.
During usage, Sharpz's high-resolution magnetic coils and split collet included in the setup allow faster and smoother changing of the tubes.
In the end, every part of this machine has been optimized to work so seamlessly together that it delivers a top, hassle-free user experience.
Deal breakers?
Not on this one.
If you don't like coils but would rather have a rotary, that is not much of a deal breaker. Only go for the rotary and find what best suits you there.
Read More: Rotary Tattoo Machine Reviews and Guide 2021
Mr. Sharpz has been in this market long enough to know what works. With some skin in the game himself, he has come up with units like the ones reviewed here that do what they are advertised to do.
No tricks. No gimmicks. Just plain delivery on the promises made.
Identifying the Fakes! Be Aware

This section applies to both machines reviewed above and others.
Due to his popularity, fakes have sprung up in the market to rip unsuspecting users off. It is, thus, essential to know how to spot the fake models of these units.
To prevent this from happening so easily, he has taken the extra precaution of shipping every unit with a certificate of authenticity so that you know it came from the manufacturer.
They also primarily code each unit to the buyer, which not only helps in cases of theft or loss but assists in tracing the authenticity of the device back to the company.
However, the suppliers of these fakes have gotten so good that they could also forge and include a certificate of authenticity.
Usually, these fakes will bear a "made in China" badge.
Even though they are shipped to different parts of the world, his models are only made in the UK. Not even the units sold in the US are locally produced – only shipped into the country.
That said, it is best to go via the official routes (the company's website) when purchasing these units.
You can find the models you want on their UK and new US websites.
If there is any machine you didn't find in the US, but in the UK store, the brand entertains calls and emails to order those specific units to your location.
Final Words
The Nano dial liner and brass hybrid tattoo machines are no slouches when executing what they have been designed for.
Beginners will enjoy the versatility and flexibility they get with the brass hybrid unit.
Moving up in the tattoo world, artists will start seeing the need for a dedicated liner like the refined Nano Dial Liner.
Custom-outlines, crafted, and designed to suit varying skill levels and applications, these Micky Sharpz tattoo machines deserve more than a second look when shopping for the best coil configuration for yourself.
Images Courtesy of Micky Sharpz
---