---
The Stigma Rotary Spear is a pen style fully adjustable tattoo machine that is appealing to all artists.
It might come at a heftier price, but it boasts unrivaled performance and specs that are worthy of the best-in-class title.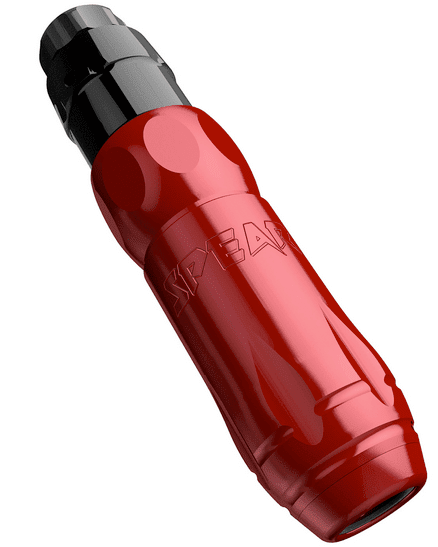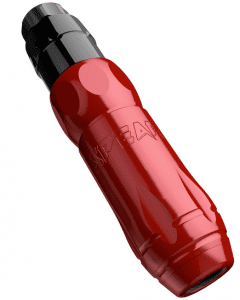 ---
Background
The Stigma rotary Spear is perhaps the most user-friendly tattoo machine you can come across. Enhanced visuals blend with flawless design, delivering an ergonomic product that is comfortable to hold thanks to its long non-adjustable grip.
This tool has been designed for comfortable wrapping and suits most artists regarding the size of their grip. The rounded profile also makes the machine comfortable to hold during long tattooing sessions, which is a big plus.
Durability and reliability are also part of the picture. This machine boasts independently adjustable give and stroke length.
The stroke length varies between 3mm and 4mm, allowing artists to use the device for both lining and shading. At the same time, the voltage is also adjustable between 7.5 and 10 volts.
So, for the voltage:
For lining works, it is recommended to operate the machine between 7.5 to 8.5 v. By contrast, for shading and coloring works, it is recommended to adjust the voltage from 8  to 10 v.
As we say in all the machines, this is just suggestion. Make sure you have a feeling of the work you need done and the speed of your hand. These are important factors when deciding about the right operational voltage.
---
Stigma Rotary Spear: Final Thoughts
Made from titanium steel and weighing 5.75 ounces (163 g), this versatile pen rotary tattoo machine is perfect for lining and shading. Independently adjustable parameters and an ergonomic design, make it ideal for most artists.
Powered by an imported Swiss motor (6 watt), the unit also boasts a 2mm shaft as well as two (2) preloaded bearings. It is compatible with most cartridge needles thanks to its interchangeable cartridge receiver.
It also has a protected RCA connection and an anti-roll design that makes it easy to hold during long tattooing hours.
Despite not being the most economical, this tattoo gun is definitely one of the most popular you can find.
Coming in four (4) colors, the Stigma Rotary Spear is also easy to match with your personality. The machine is backed by a 1-year warranty, although some suppliers may offer additional coverage (as your supplier if that is the case).
---
Here are some related items for this tattoo machine:
Specifications
Brand:

Stigma

Type:

Rotary

Purpose:

Lining and Shading

Voltage:

7.5v to 10v

Frame:

Titanium

Grip:

21mm

Stroke:

3.0mm

Weight:

5.75oz

Needle:

Cartridge