---
For most beginner and expert tattoo artists that have come to love the Seth Ciferri tattoo machines, the fact that they work well is what stands out for them.
Digging into the history of this top tattoo artist and machine builder, though, that's not the only exciting thing here.
We especially love that his works and machine designs were inspired by the likes of Aaron Cain, Mike Malone (RIP), Clay Decker, and even his brother, Adam Ciferri.
If anything, this tells us that he is a legend who has learned from the best, infusing his style to create something unique for us.
Today, we will review two (2) amazing machines Seth Ciferri has ever built and how they compare for you.
Mini Flat-side Liner
Over the years, Seth Ciferri has created different liner coil tattoo machines, which are unique in their ways.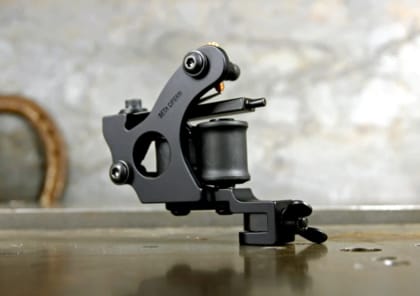 Of these, we have the Micro Jones liner, which comes as a limited-edition model, the Classic Liner model that brought Seth much fame and attention as well as the Mini Flat-side liner.
None of these liners are slouches when it comes to making their mark. As we said before, they all bring something unique to the table.
For now, let's see how this liner fares in this category.
The outline of the machine
Seth had a lot of design experience (on other custom tattoo machines) before he came to the Flat-side Liner model.
It was just expected that he would almost get this one right out of the box without needing too many iterations to get there.
One of the most impressive things about the design is how lightweight and forward-balanced the machine is.
It is one thing to tip the scales on the lower side at 5.3 ounces and yet, another thing to have a machine optimized such that it doesn't lean back when working.
Otherwise, the tattoo artist starts facing wrist fatigue during their longer jobs.
To achieve this characteristic while keeping the machine durable and functional, he opted for an aluminum frame cut into the desired dimensions with CNC machining precision.
Before you sneer at the mention of aluminum, he fixed the common issue with this metal by inserting steel at the clipcord connection, pairing that with a beefier side plate to ensure the metal is just as stiff as what you get on iron models.
So, all the strength of iron builds combined with the easier machinability and lightweight aluminum packed into a single model.
The minimalist design element of this machine is equally laudable, carrying a deluxe hardware finish that features the most straightforward branding on most custom tattoo machines today.
Although Seth had moved away from the handmade tattoo machine genre when launching this one, he is still involved in tuning each unit to meet the proper standards.
Managed voltage range
Every machine in this series was designed to operate at 6V within the 125-130Hz frequency range.
This usually signifies up to 50% of the machine's power, so we expect this unit to go up to 11V, at the least.
Seth included a dual, 8-wrap coil to handle and deliver all that power without burning out when you need to work at high voltage levels.
That is not an invitation to abuse the machine and run it at insanely high voltages for a long. It, instead, tells you how much this well-built tattoo machine is designed to handle.
What needle configuration works best?
Seth Ciferri said this already, but allow us to reiterate: This machine will quickly push any needle configuration.
Artists who are used to standard needles will have a great experience, and those who swear by their cartridge needles will also get the best out of the machine.
This makes the unit a fitting choice for beginners who are still finding their feet and might likely switch to another configuration in the future.
It is also an excellent bet for those intermediate and expert tattoo artists who change between standard needles and cartridges at different stages.
That said, you don't need to buy tattoo needles from Seth or other providers to use this machine. They are designed with industry-wide needle compatibility, ensuring that you can use any set of well-made needles with this unit.
Lest we forget, the manufacturer recommends using this lining tattoo machine to push the big stuff, from 7s to 14s. That's saying a lot, and we love bold claims like that.
Where we think it will do well
It's already apparent: Lining.
We've always been particular about those coil models tuned to do one thing right since that is how they are supposed to work.
Seth especially tuned this one to deliver a heavy hit at medium or slow speeds. Thus, you don't have to worry much about manipulating your hand movements to get the right hit.
Its practicality

On this liner model, the ease of use begins with the weight savings on the design.
Think about being able to work longer hours without the weight of your machine getting in the way. This makes tattooing a joy and ensures you can complete most designs in one session.
Furthermore, he added a forward-facing guillotine vise to this unit.
You might not notice it if you are right-handed, but it makes all the difference for left-handed artists who often have to tweak their style to accommodate machines made for a predominantly right-handed audience.
That's not the only benefit you get from this kind of vise. Besides being ambidextrous, it also holds all steel and plastic tubes right without prejudice for one over the other.
And, it doesn't end there.
Remember the needle compatibility? Not many great coil tattoo guns can promise to work with all needle configurations – but this one continues to deliver on that promise.
Being a relatively recent design, he tweaked the machine to come with cartridge support out of the box rather than that being an afterthought.
Finished with a dual setup of 8-wrap heat shrink coils, you have less heat energy dissipation to worry about when working with this unit.
Possible sticking point
We think that the only kinds of people that this machine might not appeal to are those who would have loved to have more than one function on their units.
We get that – and we have equally reviewed other machines that handle more than lining works simultaneously.
However, this is the ideal fit for professionals who prefer that their machines be expertly tuned to deliver the best result in only one department.
There are a lot of intricacies that go into the basic lining operation – and you should be looking to get a unit that does that exceptionally well anyway.
Weiner Dog Shader 2.1
Also made in the USA, the Weiner Dog Shader 2.1 packs a lot of history and competition behind it.
For one, it is not the only shader in his impressive line-up either. This professional tattoo machine is undoubtedly in great company with options like the Modern Classic, the Micro Jones, the Belmont, and the Weiner Dog Shader 2.2.
Even internally, the numbers tell that this is not the first unit in its family.
After undergoing some iterations and developments, we dive deeper to see what he was able to come up with here.
What did Seth offer with the design?
If we have established anything by now, it is how design is no issue for Seth. Above just making good outlines for the sake of machine beauty, he is also well versed in crafting functional elements.
This time, he kept things solid and sturdy on the frame with an iron build.
Like his other custom tattoo machines currently on the market, CNC machining helped craft this device's parts and elements for better quality control.
It is almost surreal that a machine with an iron frame weighs just 5.5 ounces.
Shaders are meant to carry a lot of power – which this one has to – yet it doesn't make the weight scales scream.
One of the most significant design improvements you'll see on this piece from the previous models is geometry.
Now expertly tweaked to deliver a more substantial hit, the vises have also been changed around to fit the new geometry while performing better than before, at the same time.
Such impressive engineering is continued with an exposed double coil setup – lending more credence to the power you'll get from operating this piece.
Offered voltage range
A running voltage rating of 6V, generating 100-105Hz, is a delicate balance between vibrations and machine usage.
This rating is for an unloaded setup, but it also tells you what's to come when you start working.
You won't get a noiseless machine, but you should not have to deal with extreme noise and vibrations.
That said, the machine should reach up to 10-11V of power during peak usage.
Since it is a shader, you might not need to go past 10V, depending on your unique setup and model.
The needles that could work with this model
Take it from Seth when he mentions that his machines are suited to work with both standard needles and cartridges.
Purchase your needles from reputable brands so that they can pair well with this unit.
The manufacturer also recommends getting your 7s to 13s ready to work with this machine, which is an ideal needle range for most artists when shading.
Read More: Tattoo Needles Guide 2021 – What you Need to Know.
Given that it is an 8 wrap coil machine, though, don't pack too many needles into the device at once.
Of course, you get a faster outcome from using that configuration, but you might not get enough power to adequately pack the blacks and greys into the skin right from the coils.
Strike a balance between low to medium-sized packs and this coil; you have a winning shader tattoo machine on your hands.
Where do we think is the best use
Custom-fitted and tuned to shade well, that's what this machine does.
Some experts might try to break it down and make it do other stuff, but you best get another tattoo machine for different operations when you have this one.
Plus, you risk messing up with the custom Seth Ciferri tuning, which you might never get back.
Not to mention the chances of breaking your warranty agreement on this unit.
For shading, Seth has changed the machine's geometry to make it better suited to delivering more powerful hits. That way, the needles stay nestled in the skin for a little longer to ensure crisper blacks and greys.
This same feature makes the machine equally great for color packing besides the usual shading. You'll get the best results if you don't use this machine for the lining.
Besides the normal shading and color packing, we also appreciate how this machine is tuned for whip shading.
It gets into the skin right, creating those analogous, varying tones of color from the deepest part to the lightest region.
This allows artists like yourself to get more natural surfaces and drawings to be even more realistic.
Benefits when using this machine
We talked about the lightweight nature of this unit already. So light, even he had to include that in the name.
For a unit made from iron and specially tuned for shading, the sub-6 ounces weight makes it extremely easy to handle.
The ease of use continues changing the device's geometry from the last model for better ergonomic appeal.
It can be handled even better without feeling out of place or getting in your way.
This change in geometry also saw design elements like a drop-down rear end and vise, allowing more space when using the machine.
All that, and the entire unit doesn't break out of its minimalist style.
Any deal breakers?
There's not much to say here, which tells a lot about the build quality of this unit.
Factoring in the fact that this is not the first unit in the series but an improvement over the initial launches, it is also understandable that it is close to perfect for users.
Unlike the Flatside Liner above, this unit will also handle shading and color packing in the same breath. With that, we don't think anyone should be concerned that this machine can't do it all.
Not that we don't have other tattoo guns crossing over between all three tasks, but that would be overkill on such a specially tuned unit.
Again, the Weiner Dog Shader 2.1 is on top of its game.
Final Thoughts
Coil tattoo machines enjoy the best rap in the industry for how long they have been here, the specialty tuning they offer, and the flexibility they give artists who trust them.
Having these machines tweaked and built from scratch by an expert artist is, thus, yet another treat on top of all that goodness they already offer.
When Seth is the artist in question, you don't have to worry about the build's quality, the machine's efficacy, or the deliverance of its promise.
As shown by these two units, professional tattoo artists can snag up this expert-tuned setup and make a success out of it.
There are other Seth Ciferri tattoo machines to explore out there. You can't go wrong any day with these guys we mentioned up here.
Images courtesy of Workhorse Irons
---