---
Like most good tattoo setups, the Micky Bee tattoo machine was made by a true veteran of the art.
Named after the founder, Micky Bee has gone on to make a series of different machines to handle lining, shading, and coloring operations over the years.
These days, the custom tattoo machines from Mr. Bee have gone into mass production. That indeed takes away the feel and appeal of a handmade tattoo machine, but everything that goes into the making of every unit is still manufactured in-house.
Retaining their quality for this long, it is worth knowing if they are still an excellent spend for your money.
Insignia
The Insignia line-up is borne from the original series. What sets this apart is the design element, which has the artist's name cut into the unit's frame.
But is the design the only thing that has changed here? Find out more under the headings below.
The creator's design
Micky makes this series available for liner and shader, so you know what you are getting if you go for any of these.
Both units have been custom-tuned to perform their operations better, so it is time-saving to get that instead of tuning them yourself.
It would also seem that he is one for appearances as much as he is dedicated to the functionality of his units.
That informs the design element, which sees a durable metal frame with an excellent brand name cut-out, finished in different colors.
Speaking of the colors, he allows artists to choose from an option of chrome, brass, copper, black, orange, NATO green, baby blue, passion pink, and more hues. This surely makes it possible to express yourself as an artist better when you choose a color that resonates with you.
He didn't lose sight of what makes a true tattoo machine great for all the good things that were added on the design front. That is why this design has been kept close to what Paul Rogers (adjudged the father of American tattooing) envisioned.
Combining all that into one machine gives us this fantastic professional coil tattoo machine.
Insignia voltage range
Surprisingly, there are no advertised voltage ranges.
This is usually a staple with most tattoo machines, so we don't know why they have left it out here.
Given that an expert tuned the machines, though, we would expect that they work within the recommended ranges for lining and shading, anyway.
Read More: Tattoo Machine Power Supply Basics and Guide for 2021
A good suggestion (for lining operations) is to start it between 7 and 7.5V. This is the sweet spot for listening to how the machine kicks back, sounds, and feeds you enough information to know whether the voltage level should be increased or maintained.
The spot with smooth, crispy sounds and efficient operation should be maintained.
For shading, most artists require 8-10V to get the job done. Again, that's a suggested range, and you will have to find which one works best for you based on your style, the complexity of the piece you're trying to achieve, and other factors.
What needle might go best?
The Insignia Shader and Liner are optimized to work with all needle configurations.
That way, you can take your standard needles or cartridge setups to this one and go with it.
In our experience reviewing coil tattoo machines that work with both needle types, one tends to do better than the other.
In most cases, standard needles are more compatible with these machines than cartridges.
Depending on the kind of work that you do, you might've not noticed the difference at all. Make sure you buy high-quality needles so that you don't have a challenge with this machine.
While the creator does supply its line of needles for artists that want them, their handmade tattoo machines are not custom-tuned to only these in-house needles alone. So, you can choose to go with a brand you have trusted for longer.
Where we think it is best to perform.
As mentioned before, this series was designed for both lining and shading operations. Of course, not the same machine handles both but different, custom-tuned setups.
For shading, look at the Honey Bee models. They also have a Killer Bee setup that works quite effectively with shading and color packing.
When it comes to lining operations, you will have better luck with the Insignia Sting setup instead.
Micky mentions that this machine comes with a short front spring, among other optimizations, to make it a lining powerhouse.
These machines have been used for over 20 years and surely deliver what they promise. After all, they would have been called out otherwise.
How easy is it to use them?
The Micky Bee tattoo machines boost their ease of use in custom-fitting each model to do only one thing at once.
That makes it easier to pick the machine up and get them working straight away.
An ergonomic design element also makes these machines a breeze to work with.
The Insignia Sting Liner, for example, brings a Paul Rogers classic design that most tattoo artists are used to already.
That way, it's easier to switch to this machine from any other one – and not feel like they have to go through any learning or adjustment curve.
On the Honey Bee, the creator retains the original telephone dial build that artists have also come to like from the brand.
Both design elements show that the company is more interested in keeping what works on the table rather than reinventing the wheel and making the whole tattoo process harder.
Finally, the 10 wrap coil packs enough power to deliver thicker outlines and cleaner shades.
Maintaining this configuration on the machine line-up gives the units enough power to handle almost everything you throw.
Possible reasons not to buy
It would be nice if the brand could slap a voltage range on all of their units. We know that they have been tuned to work with the best voltage ranges for each tattoo operation.
Knowing that higher voltage levels will cause the coil to overheat and maybe even get damaged, though, he should surely put the levels here.
The pros know what acceptable voltage ranges are based on their jobs. And, if anything, these Insignia custom tattoo machines conform to those standard voltage ratings.
Besides that, there seems to be nothing serious to take away from these well-built, lightweight, beginner-friendly coil tattoo machines.
Original Sting Liner
Micky Bee has been making the Sting Liner setup for more than 20 years now, but they did not always come with that Insignia.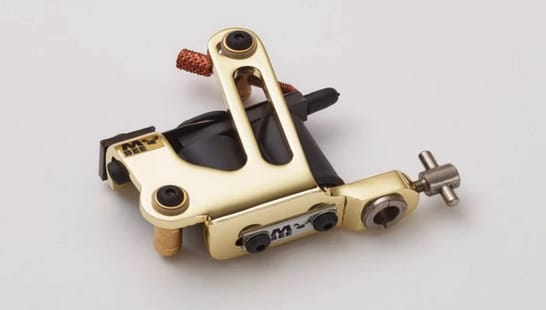 This unit bears a lot of semblance to the above-reviewed gun, even down to the price range that they both come at. We see some design element changes and possible upgrades, which we discuss below.
What he offers with the design
Like the Insignia sting liner that comes after it, this original design is also based on the classic Paul Rogers template.
Micky Bee's design gave a lot of space, revealing the internal coils and spring on it.
That was fixed on the Insignia, which still came with spaces on the spine of the machine but didn't expose the internal components as much.
The original series also had lesser design elements to deal with. Everything was straightforward, with a primary logo on the top and around the base of it, nothing more.
For the Insignia, things were switched up to include a cut-out that bore the brand name too.
He also introduced new colors and finishes (such as copper, brass, and chrome) on the Insignia line, which were not launched on the original sting liner range.
Looking elsewhere, everything remains the same.
Possible improvements
Besides the logo representation that changed, there is nothing to separate these two on their already ergonomic build.
Since the Insignia models came after the original ones, it stands to reason that he must have done some work beyond just changing the look and its appeal.
Although these changes are not too pronounced, the Insignia model could have been tuned to work slightly better with cartridges, handle lining tasks better, and effectively hold voltage ranges.
At the end of it all, it seems that the difference between these two machines is the artist's taste and desire for finesse on top of a good lining machine that works well.
Final Thoughts
Spending over two decades in the market is more than enough time to have known if something works or not. We cannot doubt how well they work for their intended operations with the exclusive line-up.
These beginner-friendly custom tattoo machines are no longer handmade since they have entered mass production, but that does not take away from the quality they offer.
Micky Bee also promises that all the parts in his machines are manufactured in-house. If anything, that ensures better attention to quality and improved cohesion of parts.
These picks should be on your list if you are in the market for a good, specialized tattoo machine for either lining or shading.
Images courtesy of: Micky Bee.
---