---
The popularity that the average tattoo machines designed by Dan Kubin enjoy in the niche is not by mistake.
Besides the fact that these custom tattoo machines are made by a tattoo artist who knows his stuff, it ensures the job is done quite alright.
Combining that with the fact that he has machining experience from working in the Air Force, you can infer the precision of design and degree that goes into each of his models.
"To better evolve in his creativity and put out new versions and designs, he even invested in his equipment."
That culminates into today's review, where we look at two (2) of the best-selling, high-revered rotary Dan Kubin tattoo machines in the market today: the DMC V2 and Sidewinder V7.
The DMC V2
The DMC line is a tried, tested, and actual rotary tattoo machine.
Dan iterated faster from the first version of this unit to address personal concerns while also incorporating the user's feedback, leading to the development of the V2 model.
From the stylish build to the operational efficiency, this handmade tattoo gun fits the bill for multipurpose applications.
What is it in the design?
His machines are regarded to carry a steampunk design element to them.
When asked, Dan mentioned that he didn't have steampunk in mind when creating this model. Instead, he was interested in making it highly functional while looking good.
The DMC V2 rotary machine was developed with a brass and copper frame.
"These high-quality materials are easy to work with, which allowed him to get all the ideas and final concept."
Looking elsewhere, users can choose to get their DMC V2s in different colors and exterior finishing.
Ranging from Verde Patina, Black Nickel, Jet Black, and Gold to accented colors, he allowed the tattoo artists to use them to express their individuality with their color options.
An ergonomic design of the unit sees an ambidextrous approach to the thumbscrew. This sounds like a small addition, but left-handed tattoo artists will notice it well.
After all, most of the standard units in the market are designed to suit right-handed people, given that they comprise a more significant percentage of the population.
Voltage range managed by this machine

The DMC V2 was designed to operate within 3.8V – 6.5V.
Note that the peak voltage expressed here is expected to be surpassed once the machine starts to get broken in. With constant use, you should be able to draw and use more power from it.
The noise level should not be an issue at these voltage ranges, but that doesn't make it non-existent, and it could still be a minor bother.
"That is where one of the best improvements over the original version of this machine comes with up to 50% noise reduction".
This noise reduction makes a lot of difference for the tattoo artists and their clients, as well as on the power bill.
Read More: Tattoo Machine Power Supply Basics and Guide for 2021.
What about the needles?
Both standard and cartridge needles work well on a regular DMC V2.
This choice is usually a dealbreaker for most tattoo artists, especially those who have committed to one needle style but want to leave the room to test another one in the future.
For those using standard ones, lining the tip of the needle with your machine comes with relative ease.
"This is not surprising, given the designer's experience with real-life tattooing situations."
When going with cartridges, an adjustment screw on the V2 disengages the return spring. Reverse the process (tighten the screw) using standard needles instead to get the best results.
Read More: Tattoo Needles Guide 2021 – What you need to know about them.
Where is it performing better?
This custom tattoo machine is best applied to shading and packing works.
This boosts the argument for getting one of these units, given that you don't have to switch to another tattoo gun unless you plan to do lining.
Switching this tattoo machine for a different use case is straightforward, all thanks to the flipping polarity of the clipboard. Here, you can adjust it to high or low voltage settings.
And, how easy is it to tattoo with it?
We have discussed the ease of use in parts and bits around this review, but it deserves a section of its own.
For one, the ambidextrous nature of the thumbscrew makes it equally accessible from both sides and also a breeze to use for left-handed tattoo artists.
It also continues with a better cam geometry than present on the original, eliminating snags and retracting faster into the shell.
Likewise, Dan Kubin has made this machine such that you need neither tuning nor lubrication to get them working right.
It is almost a done-for-you setup geared towards helping you get the best out of your time working with clients.
What are the possible deal-breakers?
There is not much to see here, which is not a surprise.
Given that this handmade tattoo machine was designed by an actual tattoo artist, not some company only looking to make a sale, we understand why it would be almost perfect for others.
Some users have slightly complained of enjoying less range with the DMC V2 when using a cartridge instead of a standard needle.
A common fix is installing a small washer that pushes the pin aside a bit more, making the A-bar even leveler. Thus, generating a better range for the setup.
Besides, Dan quickly moved on from the original model to fix issues like high noise levels, snagging, punch efficiency, and related others, so you have a pretty solid design in this new model.
The Sidewinder V7
With the first version of these rotary tattoo machines bursting onto the scene in 2010, the Sidewinder is one of the most highly developed series we have seen.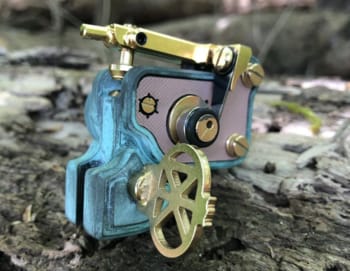 With the V7 model, Dan brought all of the design and manufacturing in-house, allowing him to make massive optimizations, achieve better quality control, and put out the best version of this series.
Another clean design
Sticking true to the design elements on the DMC V2, he offered this machine in various frame finishes.
"The picks include brass, 24K gold, featherweight, black nickel, and black oxide, among others".
Those frame choices are further niched down into specialized design picks for an added variety of things.
Thus, artists who prefer brass frames, for example, can choose to have polished and patina brass, dark patina, etc.
One notable difference in this line-up is the weight.
Depending on personal preferences, you can choose to have the Sidewinder V7 in:
– the standard weight option (5.97 ounces – 169 gr) or,
– go for the featherweight one, which comes in at 3.86 ounces (109 gr).
"Not much difference in the weight, but it is for some artists."
That said, though, the weight on the machine is more forward-based and concentrated low, giving it an overall solid balance. Thus, it doesn't create too much strain on the wrists.
The voltage range is offered here.
A standard V7 should be used in the recommended voltage range of 4V – 6.5V.
The machine can manage more or less than that, but that is asking for too much strain (in case of going higher) or less than ideal results (in case of lower volts).
As you use it and get familiar with it, you'll be able to establish better what voltage settings are proper for you.
As a guide, it is recommended to stay under 5 volts for the best results when using cartridges in the setup.
For artists who prefer to go with standard needles, going over the 5V mark will help you with better consistency and lining works.
Needle compatibility
We gave it away in the previous section already, but here goes.
This Sidewinder V7 is compatible with both standard and cartridge needles.
"If you have ever used any of the older models, you already know that the cartridge compatibility was a serious concern."
That marks one of the most significant leaps in this new model for everything going on for the line-up.
It is the first time it will be fully compatible with cartridges, though, so it will still do better with standard needles.
"Likewise, it is recommended that you use rubber-based cartridges (over membrane ones, at least) here."
The rubber cartridges pull the needle grouping towards the tip when used, providing a more precise delivery. The needle groupings tend to flop around for the membrane alternatives and might not have a significant effect.
Where to use it?
This version allows for great lining, shading, and coloring operations.
Speaking of coloring, the geometry of the standard needle setup allows it to pack a lot of colors at once.
The standard needle setup is also great for whip shading but works wonders when you apply it for heavy saturation and smoother fades.
The smoother fade slips in naturally with your work when using the standard needle setup, and the machine introduces some good saturation on top for you.
"That is surely one way to make your work look better and achieve desired results faster too."
Finally, the needle setup is excellent for black and grey colors. When you need a softer effect, engage more tension on the machine, and you are good to go.
Ease of use for any artist
Dan brings up to five-stroke adjustments to this new model, making it more impressive than the previous versions.
"That is only bettered in that you can now adjust the hit easier even while tattooing with the new single spring adjustment system."
As you should know, lower volts will give you a lower tension level and vice versa.
The ease of use is stepped up in the offering of this unit in more than one weight category.
Even though the non-featherweight version is still not too telling on the wrists, you can go for what works best for you now.
Finally, you can get more precise tuning with the new, improved, adjustable impact screw.
Giving you more flexibility to change the stroke and quality of delivery in real-time, the machine does make life easier for the pro users who know what they are doing.
What can be a possible no go?
Concerns from the older versions of the Sidewinder included a poorer performance in the lower volt range and how poorly it managed with cartridges.
Both concerns were fixed on this unit, and some more features were slapped for good measure.
Looking elsewhere, quality control issues have been brought under wraps, with the creator choosing to move production under a single roof rather than sourcing parts from multiple areas.
Right now, there seems to be nothing to take away from this unit.
In a future V8 model – or if that is already in the works – we can only expect to get even better performance there.
Final Words
The Dan Kubin tattoo machines have been a darling of many for a while now, and it is not hard to see why.
His machines were made with a lot of heart, dedication to what works, fast improvements on what doesn't, and a stylish finish to match.
He also has a practice of his own, where local and international clients come to get tattooed, which can also attest to the quality of his machines.
That alone explains why there isn't much in the way of deal-breakers and why they are always sold out when they get back in stock.
For serious artists that want to get their designs coming out right with a no-BS piece of equipment, any of the two (2) series reviewed here, for now, is an excellent place to look for.
Images courtesy of DK Rotary
---