---
The EZ tattoo machine was founded in 2005, only focusing on the rotary side of devices.
EZ Tattoo Machine Table Summary
Avant Pen

Astral Pen

Filter V2 Pen

EZTAT2 Bat

User's rating
- 3.6 out of 5.
- 4.7 out of 5.
- 3.7 out of 5.
- 4.9 out of 5.
Frame Material
- Aluminum
- Aluminum
- Aluminum
- Aluminum
Stroke
- 3.5 mm.
- 3.5 mm.
- 3.5 mm.
- 3.0 to 4.0 mm.
Power Source
- Lining: 6V-7.5V
- Coloring / Shading: 5 - 6.5V.
- Max Volt: 8 v.
- RCA connection.
- Lining: 7V-8.5V
- Coloring / Shading: 6 - 7.5V.
- Max Volt: 9 v.
- RCA connection.
- 6v - 15v.
- Max Volt: 15 v.
- RCA connection.
- Lining: 7.5V-9.0V
- Coloring / Shading: 6 - 8.0V.
- Max Volt: 9 v.
- RCA connection.
Weight
- 13.4 oz (379 g).
- 2.6 oz (75 g).
- 12 oz (340 g).
- 2.4 oz (68 g).
Needle compatibility
- Cartridge.
- Standard and cartridge.
- Cartridge.
- Standard and cartridge.
Warranty
- 1 year.
- 1 year.
- 1 year.
- 1 year.
Where to Buy
Each of the EZ tattoo machines discussed here is an example of a rotary machine, two (2) of them being a pen-style gun.
Compared with coil machines, rotary machines are generally quieter, more versatile, and gentler on the skin. They tend to have more fluidity when it comes to needle movement, but the coil is often preferred for more intricate line work.
Read on for an in-depth review of EZ's most popular models.
Avant Pen

The EZ Avant tattoo pen is a rotary version with 100% imported Maxon Motor.
WHAT WE LIKE

WHAT WE DON'T LIKE

Optional cartridge grips for your comfort.
It is fitted with a powerful Maxon Motor.
Easy to disassemble for clean-up purposes.
It can handle a wide range of tattoo needles.

It is not made to be autoclaved for sterilization purposes.
It could be on the pricey side, but worth it.
Maxon is a Swiss manufacturer that supplies high-precision excellent quality drive systems, resulting in a robust model with exceptional durability and precise control.
Including this Maxon Motor means that the machine's rates per minute are almost double compared to standard models.
For example, this allows for 10 000- 16000RMP, whereas the Filter V2 (discussed below) is limited to 7000-10000 RPM.
HINT
For lining, it is recommended that the voltage should be around 6-7,5v,
For coloring and shading, opt for 5V-6.5 V.
This version has a maximum of eight (8) volts and a 3.5 mm stroke length.
The frame and chassis on this machine have been made from lightweight aircraft aluminum, which has then been mirror-polished and anodized for the best possible finish.
Plus, the optional grips ensure that you can get the perfect fit, with a selection of options available with the pack.
The EZ Avant tattoo pen also features an ACA cord and adapter with a six-foot wire for added convenience.
This machine has a positive perspective, with a few users highlighting how it allows for a smooth and precise user experience.
Favored among professionals, users have praised the low vibration level and lightweight design.
One of the highlights of the EZ Avant machine is how it can easily be dissembled, making care and maintenance a breeze.
This pen-style machine includes an Allen key, so you will be able to take it apart to lubricate its components.
A couple of flip sides:
Some users have indicated that the EZ Avant tattoo machine is on the pricey side when considering the quality, and some have suggested that durability is not up to par.
You can check the FK Irons Spektra Xion pen-style machine if you want a machine that can be autoclaved. Like other tattoo machines, this version was not made to be sterilized in an autoclave. Use different methods to decontaminate it.
Astral Model

The EZ astral tattoo machine is a reliable choice from EZ tats. Driven by a powerful Japanese motor, it promises to provide a consistent pressure that is gentle on the skin.
WHAT WE LIKE

WHAT WE DON'T LIKE

Hard, medium, and soft plunger bar options protect your client's skin.
If you care about the machine's color, you have four (4) choices.
Two (2) grip choices (adjustable and fixed) to cover your needs.

Voltage can't go over 9V.
It is not easy to adjust the plunger bar when using cartridges.
It features a maximum voltage of 9V, but for lining, 7-8.5 v is advised, and for packing and shading, they suggest 6-7.5v.
The frame has been crafted using lightweight and durable aircraft aluminum; the machine is available in various colors, including red, silver, purple, and black.
Offering a 3.5 mm stroke, the Astral is available in two different versions: the combo and the vise.
– The Combo version includes adjustable grips; whereas,
– The VISE version includes flexed grips.
Both versions come with a hard, soft, and medium plunger bar and an interchangeable drive system to suit the artists' preferences.
However, one online user noted difficulties centering the plunger when using the disposable option.
This EZ Tattoo machine is extremely lightweight at only 2.6 oz (75g), making it an ideal option for larger projects as it maintains user comfort.
This was echoed among the users, with one specific user (we can't make it public) in particular wondering why he had stuck to the traditional coil machine for so long.
The flip side:
You must be patient when centering the plunger bar if you need to use a cartridge rather than a standard tattoo needle.
It looks like there could be a solution for this, but only EZ can do that for now.
Overall, this is considered a well-balanced machine that can create stunning works of art on the skin.
While it has some limitations, the vast majority of users have clearly praised the Astral, with many suggesting that this was one of the best machines available in this price range.
Filter V2 Pen
The first version of this EZ tattoo machine was well-received among fans and professionals, yet the recent update is much better.
WHAT WE LIKE

WHAT WE DON'T LIKE

It is light and, at the same time, strong.
Max Motor powered machine.
Very consistent operation ensuring enough power for your tattoo work.

The DC jack plug is not universal.
Small pen-style tattoo machine that can be bothersome.
Taking the EZ filter pen to the next level, they have addressed some previous concerns and transformed performance by including a Swiss-imported Maxon Motor.
This offers increased stability and power and allows for continuous operation while you work.
The EZ filter v2 tattoo pen has been purposely designed to reduce vibrations, and it is much quieter than the previous model and comparable machines.
If you are looking for an EZ rotary tattoo machine that offers excellent quality and a high finish, the Filter V2 Pen could be right for you.
Allowing precise control, this is a tattoo machine that feels like you are drawing with a pen rather than a needle.
Handmade with a lightweight space aluminum uni-body, this is a powerful and stable tattoo machine that offers excellent maneuverability and flexibility.
It has an operating voltage between 5 and 15 Volts and a rate per minute of up to 160000 rpm.
This is particularly impressive when you consider that most similar machines are usually around half of that.
Most users have reported this as an excellent tattoo pen, highlighting just how consistent this machine is, with no fluctuations in speed and the ability to provide fine lines without breaking up.
One user even suggested this was a 'must buy' for professional tattooists.
EZTAT2 Bat
The last EZ tattoo machine on our list is the EZTAT2 Bat. This popular machine has an interchangeable cam system at 3.0, 3,5, and 4,0mm.
WHAT WE LIKE

WHAT WE DON'T LIKE

You will have three (3) interchangeable cam systems.
The machine can go up to 18V of operation.
Fits most cartridge tattoo needles.

The cord is not durable, so make sure you got spare ones.
The grip is hard to decontaminate.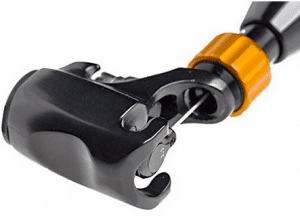 They offer three (3) levels of varying pressures: soft, medium, and hard.
The ability to swap out cam rods to match your preferences is reported to enable you to maintain the highest quality and provide excellent versatility.
The EZTAT2 cartridge tattoo machine uses a Cheyenne grip and cartridge system, and the grips are available in black or grey and feature a non-slip screw design.
The frame and chassis on this machine have been made from top-quality aircraft aluminum, which is durable yet lightweight.
The motor runs at 8000rpm and has a maximum voltage of ten (10).
HINTS
– It is recommended that you opt for between 6.5 and 8v for color packing and shading and,
– 7.5- 9V for lining and more detailed work.
– If you are using the brass-colored cam, check on the Allen screw and tighten it more.
It features 85mm needle bars, which are compatible with most standard needle cartridges as well as EZ cartridges.
This EZ tattoo pen comes with a six-foot-long cord cable, so you can quickly move around as needed.
However, there have been some suggestions that the cable on this model is not quite as durable as the rest of the machine.
While these are relatively cheap to place, they still need to be considered.
Several users note that this is a top-quality machine at a great value price (like the ones offered by Bishop or Cheyenne), but others have suggested that the quality is slightly lacking when compared with other brands.
EZ Tattoo Machine Review Wrap Up
Tattooing is an ancient art form; technological developments have meant expressing your creativity through artwork on the skin.
This is something that the Chinese tattoo machine brand, EZ, has understood and embraced over the years, producing good-quality rotary tattoo machines at an affordable price.
If you want a pen-style tattoo machine within your arsenal, we recommend you consider one of the above-reviewed models as in the variety of choices you can get from.
An autoclave is not much of an option for the pen tattoo machines as the material will not hold enough to the high temperatures of the process.
Overall, an EZ Tattoo Machine could be considered best suited for beginners to the craft or for some that are thinking about converting from the coil to rotary world but would prefer to try one out before they splash the cash on a top-tier model.
---
Need other EZ accessories or other machines?