---
The Dragonhawk Extreme X2 is defined by many tattoo artists as a supreme tattoo machine.
A simple and efficient design delivers no-frills performance, but extreme X2 tattoo machine could be a tad too complicated for beginners.
---
Background
Professional tattoo artists looking for an ultimate machine may find all they need in the Dragonhawk Extreme X2. Its name inspires aggressiveness, which is indeed delivered by the reliable Japan motor.
Be it dot or line drawing, shading, and filling, this ergonomic gun can do it all. Besides performance, in fact, the unit also boasts efficient design, and it's made from a block of CNC machined pure brass.
Enhanced aesthetics is not all. The unit is also relatively lightweight, compared to other tattoo machine models, at little over 4.5 ounces (135 g).
This rotary machine also incorporates a spring and armature bar developed to provide stronger rebound and stable frequency while working.
It operates in the 6-9 volts range, yet it's still capable of providing unrivaled torque. With an adjustable stroke from 2.5mm to 4.2mm, the Extreme X2 adapts itself to whatever you're throwing at it.
So, the house of Dragonhawk recommends the following voltage and stroke adjustments based on the type of work you need to do and more importantly, the needles to be used:
Round Liner Needles (RL):
For a 3 to 9 round liner, the suggested stroke is 3.0 mm and voltage between 6 to 7 v; for 11 to 18 RL, the suggested stroke is 4.o mm and 7 to 8 v.
For a 5 to 9 magnum shader, the suggested stroke is 3.0 mm and voltage between 5 to 6 v; for 11 to 15 M, the suggested stroke is 4.o mm and 6 to 7 v; lastly, for 15 M the suggested stroke is 4.2 mm at a 8 to 9 v.
---
Dragonhawk Extreme X2: Other Aspects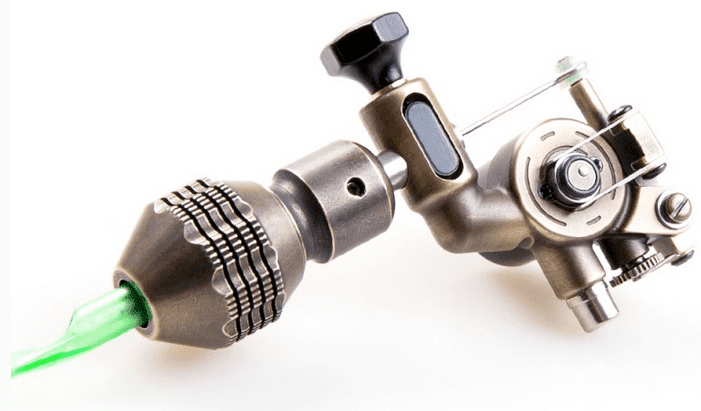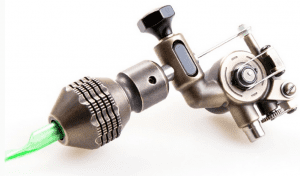 Perfect to use for shading and lining, the Extreme X2 tattoo machine can work with both, standard and cartridge needles. At the end, this will be reflected to the client's satisfaction, provide a flawless results.
A re-engineered particular frame allows for smoother and quieter operation at a lower voltage.
A 25mm RCA connected grip with 10mm German bearing is suitable for most tattoo artists, ensuring ergonomic and comfortable handling of the gun.
Its adjustable stroke length (2.5 to 4.2 mm) also allows you to use the machine for multiple purposes.
While this tattoo gun could be a tad too challenging for newbies due to the initial tuning it needs, experienced artists will most likely appreciate its versatility.
Whether it's lining or shading, filling or making dots, the Dragonhawk Extreme X2 can live up to the expectations. It even comes with a 1-year limited warranty and a 100% money-back guarantee for a risk-free purchase.
Our rate: 4.2 stars
---
Check the following accessories for this machine:
Specifications
Brand:

Dragonhawk

Type:

Rotary

Purpose:

Lining and Shading

Voltage:

6v to 9v

Frame:

Brass

Grip:

21mm

Stroke:

2.5mm

Weight:

4.76oz

Needle:

Single and Cartridge