---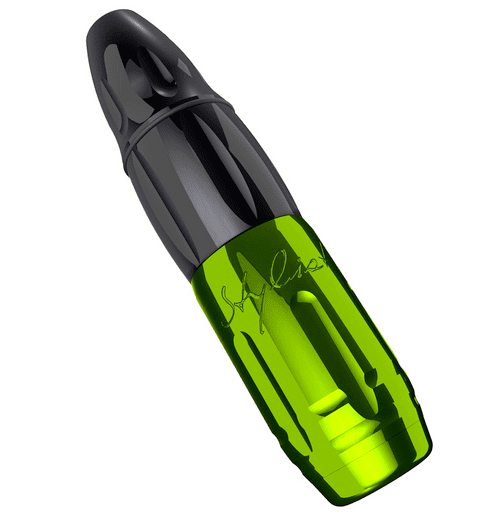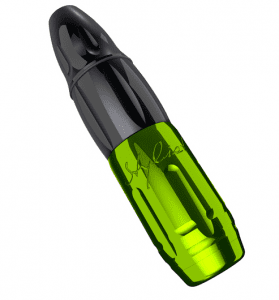 Designed with portability in mind, the Stigma rotary stylist model is a compact yet powerful pen-like tattoo machine that easily fits in a pocket. It is compatible with most major needle producers and boasts an ergonomic design that can enhance your performance.
---
Background
The Stigma stylist model is one of the most popular tattoo machines in the pen-like category. Boasting a simple design and compact dimension, this device is made to stay by your side even in your travels.
Whether in the studio or on the go, you'll always be able to have your tattoo gun at hand.
Weighing 4.33 ounces and made from titanium steel, the Stigma rotary stylist is also comfortable to hold for long periods and able to resist harsh tattooing rhythms for a really long time.
One of the greatest features is the compatibility with all major cartridge needle brands given by the interchangeable cartridge receivers. This is not the only Stigma rotary model that features this characteristic but is one of the few guns on the market that gives you such flexibility.
The grip profile makes the gun comfortable to hold by most users, despite it not being adjustable.
Another thing you'll like is the manually adjustable stroke length that varies between 3 and 3.7 millimeters.
---
Final Comments
Boasting an adjustable stroke length as well as the adjustable voltage between 7.5 and 8.5 (for lining) and from 8 to 10 volts (for shading or coloring), the Stylist tattoo machine from Stigma is perfect to use for drawing lines or shading. A comfortable grip and high power boost the unit's performance even more.
The extended grip and anti-roll design bring further value for money, and this tattoo gun can easily satisfy even the most demanding artists, at the studio or on the go.
As with most Stigma machines models, the Stigma rotary stylist comes with a Swiss motor and boasts a protected RCA connection. Durable and reliable, it can meet most tattoo artist needs, and it even comes in four attractive colors.
---
Specifications
Brand:

Stigma

Type:

Rotary

Purpose:

Lining and Shading

Voltage:

7.5v to 10v

Frame:

Titanium

Grip:

21mm

Stroke:

3.0mm

Weight:

4.33oz

Needle:

Cartridge