---
The Cheyenne Hawk Pen is an ergonomic pen-like design, low vibrations, and quiet precision DC motor encompass all you need for utmost comfort and precision during operation.
---
Background
Cheyenne Hawk Pen combines award-winning design with technical sophistication in an ergonomic pen-like tattoo machine designed, to offer absolute freedom of movement to artists.
The gun is gentle on your wrist and developed to prevent fatigue so that you can use it comfortably even during the most extended tattooing sessions.
Its straight aesthetics makes it easy to cover so that you can adhere to the strictest hygiene standards. Furthermore, a 3.5mm stroke allows you to use this pen machine for dots, lines, shading and coloring.
Even though this machine can be used for lining and shading, it is considered to be better for lining than shading (based on some tattoo artists comments).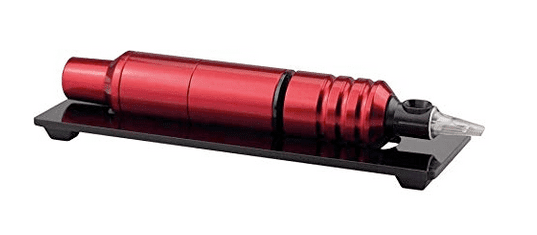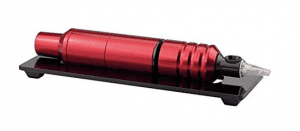 Two (2) different grips, one of 21mm (sold separately) and another of 25mm (standard grip coming with the machine), give you the possibility to adjust the machine to your preference.
At the same time, the lightweight unit is soft on your wrist, giving you the freedom of movement you need to reach difficult spots.
Another exceptional feature is the patented cartridge technology that lets you switch between 56 needle configurations. This includes, the standard cartridges (from almost mayor brands) and craft cartridges, which are the latest addition.
---
Cheyenne Hawk Pen: Final Comments
Bringing excellent value for money, the Cheyenne Pen Tattoo Machine allows for a continuously adjustable protrusion between 0 and 4 millimeters.
An adjustable needle protrusion and quick covering are two (2) further features that boost this machine's value.
An anodized aluminum body, available in six (6) colors, ensures a low heft of the tool. However, slightly over 4.50 ounces (130 g), this pen style tattoo machine, still is classified as one of the heaviest tattoo guns in the market.
Despite its weight though, Hawk Pen delivers quiet and low vibration operation; you can use this tool for drawing lines and dots, filling, and shading.
Cheyenne Hawk Pen has a very wide operating voltage between 6 and 12.6 volts (which is great because you can switch you machine to do some lining, coloring or shading) and a 3.5mm stroke are two (2) other feature that appeals to most artists. Versatile, comfortable to hold, and reliable, this tool brings undoubtedly great value for money.
---
Specifications
Brand:

Cheyenne

Type:

Rotary

Purpose:

Lining, Shading, and Coloring

Voltage:

6v to 12v

Frame:

Aluminum

Grip:

25mm

Stroke:

3.5mm

Weight:

4.5oz

Needle:

Cartridge