---
Available in a choice of liner or shader, the Pirat Sail tattoo machine is as versatile as all coil tattoo guns from the same manufacturer, making it a great gift for a tattoo artist who loves vintage designs.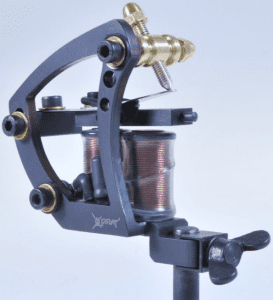 ---
Background
With a design resembling the shape of a sail, the Sail tattoo machine from Pirat is an exceptional product to consider. Its vintage design blends with the latest handcrafting techniques to give life to a unique liner or shader.
Like most Pirat machines, the Sail comes in both variants. It is made of iron and weighs 5.99 ounces. Compatible with standard needles and grips, this tattoo machine also boasts a high speed in the 135-140Hz range without a needle.
Speed slightly drops with the needle on, but you'll still have enough torque to create all tattoo motifs you want.
This gun works best in the 4.5-6 volts range, and like all other tools by Pirat, it is fully customizable.
Let's have a look to the voltage range for this machine:
4.5 to 6 volts for lining works.
5 to 6 volts for shading and coloring works.
As always, adjust the voltage of your machine according to your hand speed.
---
Final Comments
Coming with black or transparent coils, the Sail tattoo machine comes in either liner or shader variant. It fits seamlessly in any tattoo shop and allows you to customize it to your liking. Pick from the butterfly, hook, or coin screw and classic or RCA connector.
Made of iron, the machine also boasts resistance and durability. However, it still has a decent heft that allows you to hold it comfortably.
Backed up by a three-year manufacturer's warranty, the Sail impresses with flawless design, outstanding performance, and great versatility. It may not be your average tattoo machine, but the Pirat Sail it's definitely worth it if you're looking for something unique.
---
Looking for some accessories or other tattoo machine with coils? Here are some options for you:
Specifications
Brand:

Pirat

Type:

Coil (6 wraps)

Purpose:

Lining, Shading, and Coloring

Voltage:

5v to 6v

Frame:

Iron

Grip:

21mm

Stroke:

2.5mm

Weight:

5.99oz

Needle:

Cartridge