---
The Stigma Hyper V3 has all the optimal preconditions to provide expected results regardless of the complexity of your tattoo motif.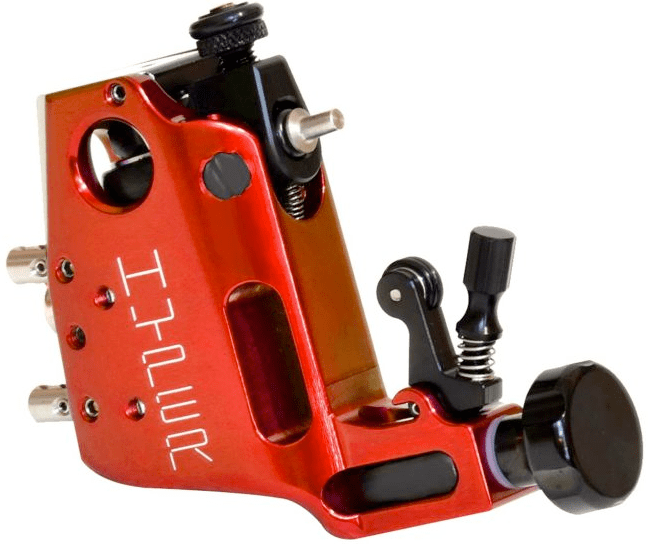 Improved technology and innovation deliver the flexibility most tattoo artists desire.
---
Background
One of the most popular Stigma machines, the Hyper V3 boasts an aggressive look that speaks volume of this unit's performance. Innovative technologies give flexibility to the design, making it perfect for advanced and beginner artists alike.
For instance, a precision and adjustable needle stabilizer helps you ditch the annoying elastic bands, while the grip is comfortable, despite the rather uninviting aspect of the tool.
Like the best-rated tattoo machines, the Hyper V3 comes with a Swiss motor designed to deliver ultimate performance. You'll also be able to make manual stroke length adjustments in seconds, with a minimum of 3.6mm and maximum of 6mm.
With a voltage adjustment between 7 and 12v (7-9v for lining and 9-12 v for shading/coloring), this tattoo machine is perfect for lining, shading, and coloring.
A tube vice locking system for grips ensure suitability with a wide range of products, while the unit provides between 3,000 and 10,000 stitches per minute, depending on the complexity of the tattoo motif.
---
Stigma Hyper V3: Final Comments
Weighing 4.05 ounces (115 g) and made from aircraft aluminum, the Stigma Hyper brings versatility to your studio. It has an easily adjustable stroke length and is perfect to use for most tattooing projects, from lining, shading and coloring.
The machine comes anodized in four (4) lively colors you can quickly match with your taste. An improved frame design also makes the device ergonomic, while enhancing its balance.
Delivering non-fluctuating, smooth runs, this tattoo machine can easily satisfy most users, and it even comes with a convenient 1-year warranty.
Lastly, featuring both RCA and clip cord connection, the Stigma Hyper V3 delivers utmost convenience, while using it with a high-end power supply improves the machine's overall performance.
---
Here are some accessories that you can have to operate your Stigma Hyper tattoo machine:
Specifications
Brand:

Stigma

Type:

Rotary

Purpose:

Lining and Shading

Voltage:

7v to 12v

Frame:

Aluminum

Grip:

21mm

Stroke:

3.6mm

Weight:

4.05oz

Needle:

Cartridge